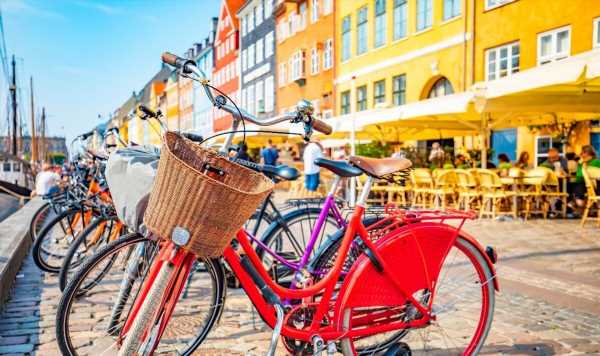 Cycling has grown in popularity across Europe, but there are a few cities where it's even become the main mode of transport. While the Netherlands is known for its love of cycling, Amsterdam isn't the only capital city where residents prefer two wheels over four.
According to the European Cyclists' Federation, 49 percent of Copenhagen residents cycle to work. That's compared to 13 percent of people in Berlin and less than five percent in London.
Bike use is pretty common across the whole of Denmark, with 30 percent of people saying they cycled at least once a week, according to a Eurobarometer survey.
But what makes cycling so popular in Copenhagen?
The city has been designed for cycling and there's a huge network of painted bike lanes and separate cycle tracks.
READ MORE British Airways cancels flights as Storm Ciaran causes travel chaos
On quieter streets, 30mph or 20mph speed limits keep road speed low while the streets have also been designed to slow down cars. Visit Copenhagen states that textured streets ensure drivers respect the speed limit.
This means that cyclists enjoy a fairly safe environment in Copenhagen and on many roads bike users are protected from cars by a curb.
According to Visit Copenhagen, more than three quarters of residents feel safe while cycling. Compare that to London where half of the city's cyclists said they felt unsafe cycling during rush hour, according to Cycle SOS.
Don't miss…
The beautiful country with four times as many tourists as residents[INSPIRATION]
'Walkers' paradise' named one of this year's best winter staycations[STAYCATION]
The countries where British tourists can stay the longest on holiday[LATEST]
Advert-free experience without interruptions.
Rocket-fast speedy loading pages.
Exclusive & Unlimited access to all our content.
The city's cycle mania has meant Copenhagen has had to find innovative solutions for bike parking.
At Nørreport Station, bike parking is sunken 40cm below the pavement and the system can hold 2,500 bikes without obstructing the view.
Copenhagen's air quality frequently rates among Europe's cleanest, with lower levels of pollution than London.
Visiting Copenhagen? Why not rent a bike to explore the city on two wheels? Bike hire costs under £15 per day and there are rental shops all over the city.
Prefer to explore on foot? Check out one of Europe's most walkable cities which is also home to incredible attractions.
In the UK, a beautiful city in the south of England has been described as the country's most walkable.
Source: Read Full Article