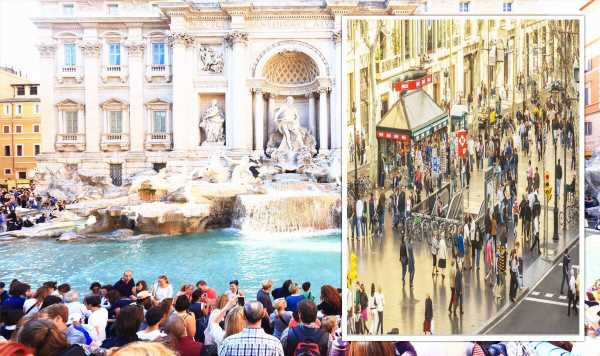 Moment pickpocket realises his EVERY MOVE caught on CCTV
We use your sign-up to provide content in ways you've consented to and to improve our understanding of you. This may include adverts from us and 3rd parties based on our understanding. You can unsubscribe at any time. More info
Unfortunately, tourists are often targets for pickpockets. New research has named the worst places to travel to for theft and several are in Spain and France.
Worst holiday spots for pickpockets
Las Ramblas, Barcelona
Eiffel Tower, Paris
Trevi Fountain, Rome
Charles Bridge, Prague
Sacre-Coeur, Paris
Colosseum, Rome
Old Town Square, Prague
Louvre, Paris
Notre-Dame de Paris, Paris
Sagrada Familia, Barcelona
The study by money.co.uk found that Las Ramblas, Barcelona's famous pedestrianised street was the worst spot for pickpockets.
Over 3,200 traveller reviews on Tripadvisor for the world-famous street mentioned pickpockets.
One reviewer said: "If you're on holiday don't bother going near it as it's an unnerving experience."
Barcelona does sadly have a reputation for pickpockets and tourists can take precautions by leaving valuables at their hotel or using a flat money belt underneath their clothing.
While some tourists might be put off visiting Las Ramblas, they could enjoy one of the less touristy areas of the gorgeous city.
The Eiffel Tower in Paris was the second worst location for pickpockets with over 2,500 reviews mentioning them.
The world-famous monument is very popular with tourists which means it also attracts opportunistic thieves.
Tourists should keep their wits about them and keep any expensive valuables out of sight of thieves.
Rome's Trevi Fountain was the third worst holiday spot for pickpockets, according to Tripadvisor reviews.
The stunning fountain is one of the city's top attractions and many tourists choose to throw a coin into its clear waters.
The ancient city's Colosseum was also one of Europe's pickpocketing hotspots and tourists should keep an eye on their valuables there.
Prague's Charles Bridge was the fourth worst spot for pickpockets and thieves may strike as tourists are distracted by taking photos.
Paris was the worst city for pickpockets overall with four attractions making the top 10 crime hotspots.
Tourists should be careful visiting Sacre-Coeur, the Louvre and Notre-Dame de Paris as each site attracts pickpockets.
Visitors could be most at risk if they look like tourists so it's a good idea to check out a route before leaving accommodation.
Tourists who have their phone out with Google Maps on could be easy targets for opportunistic thieves.
Source: Read Full Article