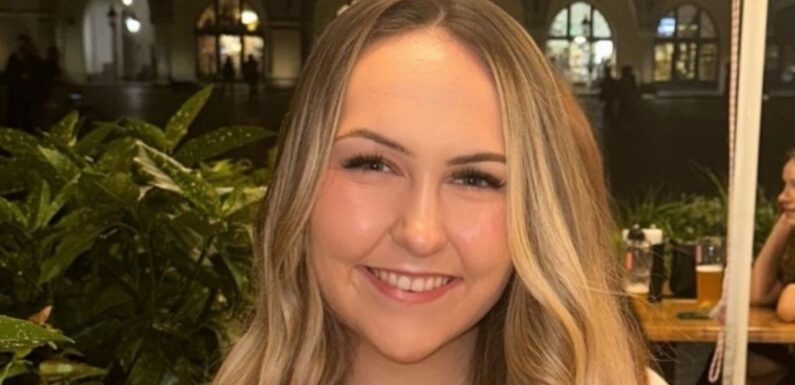 A young holidaymaker has bagged herself a week-long holiday with her whole family for just £2.42 – that's cheaper than six McDonalds's McNuggets!
Emily Orchard, a student nurse from St Helens, won the holiday by taking part in Jet2Holidays "Bid for a Break" scheme, where you bid a low amount for a holiday, with the lowest unique bid winning.
Not only will Emily get to go to her five-star resort hotel in Gran Canaria, but she can also take a second adult and two children with her. Emily will be going to the Lopes Baobab Resort for the holiday of a lifetime – and all she had to do was bid the lowest original amount on the Jet2 app.
READ MORE: Travel experts reveal the cheapest week to book flights including New York and Rome
The Gran Canaria Resort is a stunning hotel which will have most of us drooling. The seven heated outdoor pools wind its way among tropical palm trees, shaded bars and plenty of sun loungers in the grounds – plus, there's even a faux waterfall, statues of elephants, glass lined balconies and walkways and swim-up rooms.
The resort's design is inspired by African countries "from the jungle-like gardens to the earthy warmth of the décor, lagoon-style pools running past caves, flowing waterfalls and sandy shallows". There are also some slides in a small aqua playground for children.
The resort has a championship golf course, an air conditioned gym and offers sports like aerobics, basketball, table tennis, yoga, pilates, football and darts. Or you can hire a bike on site to explore the island. There's also a spa that offers beauty treatments and a hairdressers that lets you get your tresses trimmed.
Guests can also enjoy facilities including a disco, pool bar, lobby bar and coffee bar serving a range of local and international drinks. The four restaurants include two buffets and two a la carte options. Come evening time, there's entertainment from bingo to in-house entertainment shows, as well as karaoke, live DJ, live music, mini-disco, professional shows and quizzes. Kids can get stuck into the children's club where they enjoy arts and crafts, team games, movie nights, drama and music and even games consoles.
Some rooms even have their own private pools or are swim-up, while fancy suites come with reserved pool areas and sun loungers, access to a CIP lounge, priority check in, bottles of wine on arrival and access to the a la carte restaurant for breakfast. Ooh la la!
Thrilled to be getting her break, Emily said: "I entered Bid for a Break as my friend told me about it, but I never thought I would actually win. Wow – I'm still waiting for someone to tell me I've got it wrong! I chose my winning bid by just looking at the time, which was 2:42pm. Thank you so much to the Jet2holidays team – this is a fantastic competition and I guess it really can be won by anyone!"
Steve Heapy, CEO of Jet2.com and Jet2holidays, added: "Since its launch, our Bid for a Break campaign has been extremely popular with holidaymakers, so we were delighted to welcome its return every weekday and weekend throughout September. The campaign is highly sought-after, and its bumper return has proven to be a huge hit with customers once again.
"We know how much holidaymakers want to get away from the UK and enjoy a well-deserved break, and with some fantastic holidays available to bid on daily, we are offering them the chance to do just that for as little as a few pence. We would like to send a huge congratulations to Emily for successfully bidding on a break and securing a holiday to Gran Canaria for just £2.42. We still have some fantastic holidays up for grabs, so make sure you get involved and have a bid in mind for tomorrow's auction."
There are still breaks to bid for this month too including a seven night stay for two adults and two kids at the Paradise Park Fun Lifestyle Hotel in Tenerife, another one for the Kirman Calyptus Resort & Spa in Turkey and finally, a stay for two adults at Ammon Garden in Greece.
It's not the first time someone has managed to get a holiday so cheaply. Mum Joanna Liburd snagged a seven-night holiday to Cyprus for just £1.40.
To Bid for a Break, all holidaymakers need to do is download the Jet2 mobile app and add in their bid to the nearest pence. If their bid is the lowest, and nobody else has bid that same amount, they will purchase the holiday for the same price as their bid. The Jet2 mobile app can be downloaded for free from the App Store or on Google Play. For further information on the campaign, please visit jet2holidays.com/bid-for-a-break.
Source: Read Full Article