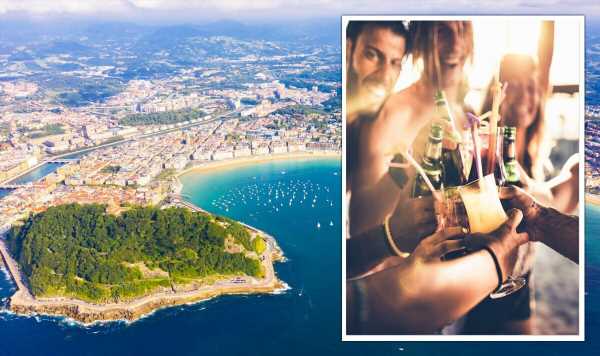 Simon Calder on the impact of travel disruptions
We use your sign-up to provide content in ways you've consented to and to improve our understanding of you. This may include adverts from us and 3rd parties based on our understanding. You can unsubscribe at any time. More info
Spain's San Sebastian is an upmarket destination and many tourists visit each year. It's also popular with surfers.
The Spanish city has proposed plans to charge tourists who get into difficulty in the sea due to reckless behaviour.
Dozens of tourists have had to be rescued from the sea in various incidents over the last few years.
Most recently, two tourists from Brazil and Spain had to be rescued after deciding to take a midnight dip.
The pair were at the city's famous La Concha beach and decided to swim after a night of partying.
However, they got into difficulty as the water had strong currents and was just 13 degrees in temperature.
The pair had to be rescued by an off-duty police officer who called the emergency services while out on a walk.
According to authorities, the rescue cost 6,000 euros (£5,169) in total. Tourists could soon have to foot the bill if new legislation is passed.
Martin Ibabe, a city councillor, said: "I would love to never charge a single euro, pound or dollar.
"The objective here is to prevent these types of incidents from happening. The confrontational nature of this law is aimed at making people think twice."
He said the city was "blazing a new path" following "clear acts of irresponsibility" at the beach.
The councillor said one woman had to be rescued after attempting to climb a rock face while drunk.
Another man fell asleep on a stone jetty at sea and had to be rescued after becoming stranded.
However, the councillor said if there was the "slightest doubt" the incident was an accident, tourists would not be charged.
It is not yet known if tourists would have to foot the whole bill for their rescue or whether there would be a set charge.
The measure is just one of many introduced in Spain to tackle drunk and rowdy behaviour in the country.
Spain's Balearic islands are cracking down on drunken tourists with several new laws in popular resorts.
Bars are no longer able to advertise all-you-can-drink deals in resorts such as Magaluf.
Party boats are also under new restrictions while tourists at Thomas Cook resorts have a six drink maximum limit.
Britons will also receive heavy fines if they are caught 'balconing' or climbing on hotel balconies.
Balconing has sadly caused the deaths of several British tourists in Spanish resorts.
Source: Read Full Article