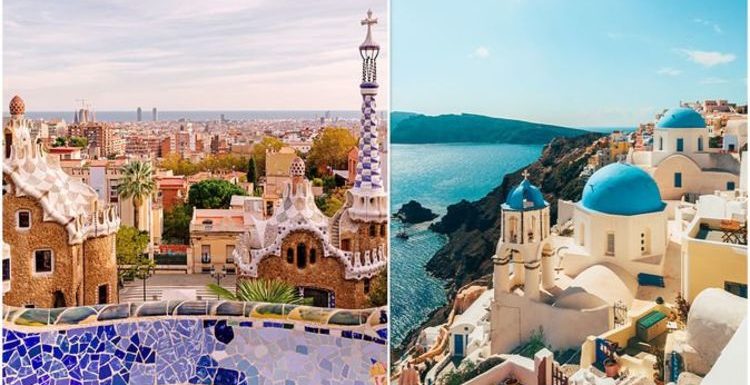 GMB: Sean Fletcher grills Grant Shapps on 'chaotic' travel strategy
We use your sign-up to provide content in ways you've consented to and to improve our understanding of you. This may include adverts from us and 3rd parties based on our understanding. You can unsubscribe at any time. More info
Spain has seen a rapid decline in UK tourists compared with 2019, with holidaymakers turning their attention to Greece instead as a result of the ongoing traffic light chaos. Although the new amber list rules for vaccinated Britons make travel more accessible, the rate of prevalence of coronavirus in Spain seems to have turned holidaymakers off the usually popular destination.
According to research by independent travel company Travel Counsellors, the latest statistics show that Britons are booking more holidays to Greece than they are to Spain.
In fact, the experts state that bookings for Greek holidays have even surpassed UK staycations, based on data from the week commencing July 26.
The data comes as local reports in Spain suggest the nation's tourism figures have plummeted by five million in the first half of the year than pre-Covid.
In 2019, the nation saw a whopping 18 million UK arrivals visit Spain.
This includes 3.7 million who headed to the Balearics.
Spain has reportedly welcomed back no more tourists in 2021 than it did in 2020, which was initially dubbed as the worst year in history for tourism.
In June of this year, it saw 2.2 million arrivals – 75 percent less than in the same month of 2019.
Despite this, however, the experts at Travel Counsellors point out that it still remains within its top locations booked by Britons for future travel – even if the figures are remarkably lower than in previous years.
DON'T MISS
Discover the medieval Welsh princess on legendary pilgrimage [INSIGHT]
New green list countries announced by Grant Shapps [UPDATE]
Spain arrivals issued with major testing waring amid variant fear [WARNING]
The company has reported a 39 percent upsurge of new bookings for summer 2022 – with the top destinations being Greece, the USA and Spain.
It also notes a 20 percent increase in new bookings for winter 21/22 – led by the USA, the Maldives and Barbados.
Kirsten Hughes, UK managing director at Travel Counsellors, said: "With Spain and Greece remaining on the 'amber list', we are experiencing a considerable demand for both countries, in particular Greece, which has become our most popular summer sun destination."
Currently, according to amber list rules, anyone who has been fully vaccinated with a vaccine administered and approved by the UK, European Union or the US are permitted to enter the UK without the need for quarantine.
They must take a pre-departure and day two test.
However, on Wednesday evening, the Government issued an urgent new warning to Britons returning from Spain amid concerns over variants in the country.
The Department of Transport is advising: "Arrivals from Spain and all its islands are advised to use a PCR test as their pre-departure test wherever possible, as a precaution against the increased prevalence of the virus and variants in the country."
Prior to this warning, Britons were advised to use a lateral flow, antigen test or PCR test.
At Wednesday's update, the Department of Transport also made new additions to both its green and amber lists.
As a result, travel booking firms such as Travel Counsellors are anticipating a new wave of holiday bookings.
"We expect an upsurge in bookings to France now it's moved from 'amber plus' to 'amber', as well as the UAE which has moved from 'red' to 'amber', meaning that Britons will no longer need to quarantine on return," said Ms Hughes.
"On the whole, we feel the latest news is certainly a positive step forward, as the green list increases and there are more countries turning to amber from red. However, people still need to ensure they are aware of the FCDO advice on entry requirements."
Source: Read Full Article