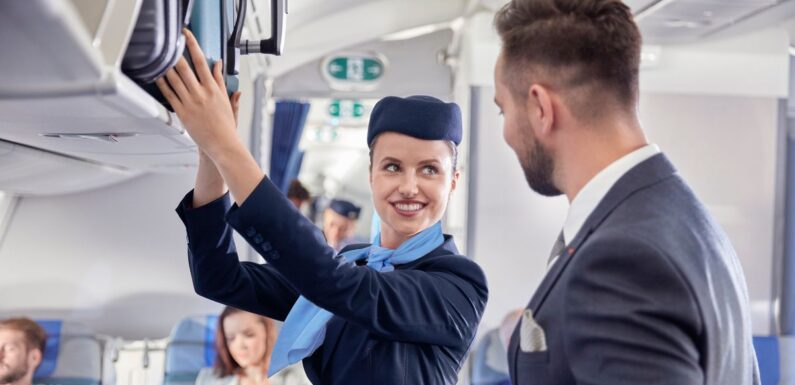 Going on holiday is exciting, but can be stressful – especially thanks to the airport and dozens of rules for flying to remember. Luckily, some frequent travellers are all too happy to share their hacks, tips and tricks to make your life easier.
One such woman, a flight attendant who has flown hundreds of thousands of miles around the planet, claims a cheap trick can make your flight less stressful and mitigate disaster when needed. Valerie Fraser, writing for Insider, suggested a plastic bag costing just 10p is your holiday hero.
It seems you may want to bring a cheap plastic bag with you on your upcoming trips as it can help with numerous things, the cabin crew member said. She added that it was the "most versatile item" you can take on holiday.
READ MORE: Packing expert warns passengers to always pack a soft toy in their suitcases
Check out our travel section for more holidays, travel news, hacks, flight secrets and more…
Valerie explained: "A plastic bag is the most versatile item you can travel with. Leaky cosmetics? Solved. A bathing suit that's still wet from a dip in the ocean? No problem. Filthy shoes from a hike? A plastic bag allows you to isolate them from your other items." The flight attendant claims that a simple plastic bag will make your life far easier if something goes wrong. Plus, if nothing worrying happens then you can simply use it for your dirty laundry or as a beach bag (they are waterproof after all).
Now, we've noticed plenty of people using plastic bags from the airport for another reason – so you might choose to buy yours there and double up on the hacks. Brits have been using a Duty free bag to take extra luggage onto the plane. It often works because security has no idea how much luggage you have paid to take on the plane. So the workers on that side of the airport don't care how many bags you have.
Plus, while airlines charge for cabin suitcases and extra bags you're usually allowed on with anything you've bought inside the airport free of charge. Plenty of holidaymakers have therefore been stuffing a Duty Free bag with extra items from home that didn't fit in their hand luggage and getting away with having the extra bag on their flight.
Flight attendant Miguel Muñoz told the Express that this "duty-free hack" allows passengers to bring more luggage onto the plane outside of their one allowed cabin bag. Miguel explained that "duty-free bags don't count as carry-on baggage" which makes sense because otherwise people wouldn't be able to shop in the airport.
He explained: "If you have something that doesn't fit in your suitcase or you want to bring an extra bag on board, here's the trick. All you have to do is carry a duty-free bag. Or ask for one at the duty-free shop and you place whatever you want in the shopping bag."
The cabin crew member noted: "There is obviously limited space, but at least you are bringing an extra bag to the cabin with you. Now you know. If you ever find yourself in that situation, just put whatever you need in a duty-free bag. You are welcome!"
Source: Read Full Article