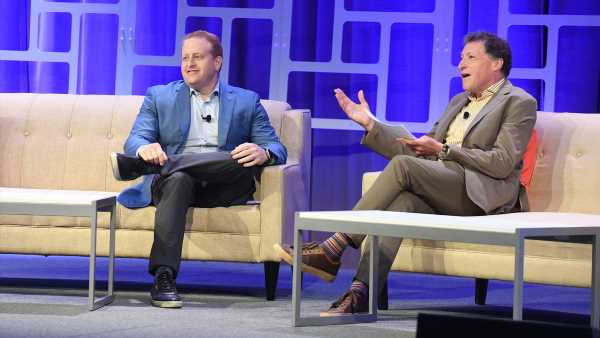 FORT LAUDERDALE — "We crushed it."
Those were Royal Caribbean Group CEO Jason Liberty's first words in his conversation on stage with Travel Weekly editor in chief Arnie Weissman at CruiseWorld 2022 on Thursday afternoon, his reaction to the company's third-quarter earnings report released earlier that day. The report was Topic No. 1 during their talk.
The company turned a quarterly profit for the first time since the Covid-19 pandemic began, earning $33 million on revenue of $3 billion.
Later in the conversation, Weissmann remarked that 2022 was a transition year from the pandemic's full impact to "what we hope is a new normal."
• More from CruiseWorld: Royal Caribbean's Michael Bayley on world cruise, Ikon
Liberty said the new normal looks a lot like the old normal. He said cruising "looks just like it did before the pandemic," with full ships. In Q3, Royal Caribbean reported a 96% load factor, with Caribbean sailings reaching nearly 105%.
He added that customers' hesitancy to book cruises that sail outside of North America is "starting to thaw out."
In the back half of last year and into this year, the trend was for customers to book cruises near their home market. "You're now starting to see them break out and be very comfortable traveling to Europe and other parts of the world. We think that's going to accelerate into 2023 and 2024."
During the cruise industry's comeback in the last year-and-a-half, consumers also have tended to wait to book their cruise closer to departure than usual. Liberty said he's seeing less of that now, as well.
"The booking window is beginning to expand," he said.
Source: Read Full Article