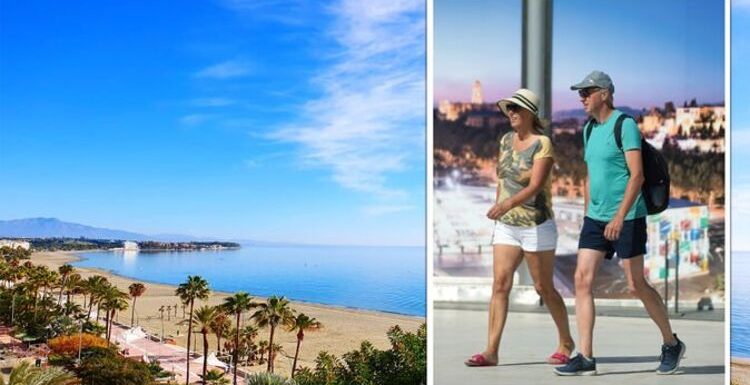 Spain sees hazy skies as Sahara dust storm blows in
We use your sign-up to provide content in ways you've consented to and to improve our understanding of you. This may include adverts from us and 3rd parties based on our understanding. You can unsubscribe at any time. More info
Spain's sunny Costa del Sol is a favourite destination for many British tourists. But the region is now trying to target a wider range of international tourists.
The Costa del Sol Tourist Board is hoping to earn as much from tourism this year as it did in 2019.
However, two million fewer visitors are expected to travel to the region as did in 2019 before the pandemic.
British tourists have long been the leading international market in the region and recently represented 30 percent of airport arrivals and 28 percent of hotel stays.
However, according to tourism officials Britons don't spend as much as some other European tourists.
The Tourist Board is hoping to diversify its market by attracting tourists from Germany, France, Belgium and Scandinavia.
German tourists spent an average of 1,410 euros (£1,179) on holiday in Spain in January while Britons spent 1,238 euros (£1,035) on average in the same period, according to the Instituto Nacional de Estadistica.
In November 2021, British tourists spent an average of 127 euros (£106) in Spain per day while Germans spent 132 euros (£112).
Tourist board president, Francisco Salado, said the campaign wants to "position the Costa as an interesting destination 365 days a year, and make people aware not only of our sunshine and beaches but our rural tourism attractions, gastronomy, culture and golf."
The Tourism Board added that it will not be neglecting the UK market, which is still very important to the region.
Many British tourists choose to visit the Costa del Sol during the summer for the weather and beaches.
However, tourists could also choose to explore the beautiful city of Malaga during the winter months.
Malaga was recently named the friendliest city in the world by InterNations and has some delicious fish restaurants.
The city of Cordoba has many interesting historical landmarks as well as its renowned courtyard gardens.
The Cordoba Garden Festival will be held between May 3-15 this year and tourists can explore many of the city's stunning gardens.
Some of the resort areas that are most popular with British tourists include Marbella, Estepona, Fuengirola and Benalamadena.
All the resorts offer British themed restaurants and pubs for Britons who want a little taste of home in the sun.
However, it was the Costa Blanca resort of Benidorm that was recently named Spain's most 'British' resort.
The resort took the crown due to the high number of British themed hotels and restaurants as well as the number of British expats.
The resort even inspired a whole tv show with many Britons tuning in to watch Benidorm each week.
British tourists will need to be fully vaccinated to travel to Spain unless they have a recent recovery certificate.
Source: Read Full Article