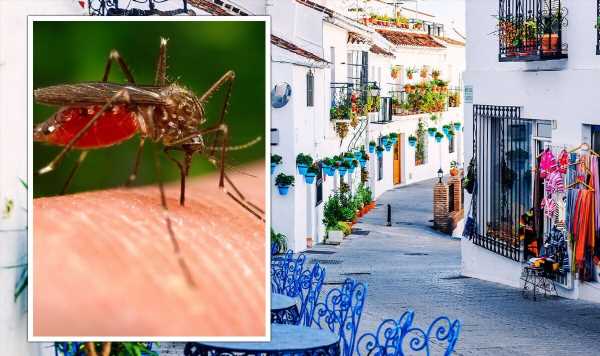 We use your sign-up to provide content in ways you've consented to and to improve our understanding of you. This may include adverts from us and 3rd parties based on our understanding. You can unsubscribe at any time. More info
Last year, 87 people were affected by the virus in Andalusia, the region where Costa del Sol is located in the south of Spain, and eight were killed. The Andalusian Government has decided to act now as some regions are currently at high risk.
According to health officials, the highest level is recorded in Benahavís, in Malaga. The authorities are implementing prevention plans as well as surveillance and control measures in these regions.
The Nile virus is generally transmitted by mosquitos that bite birds, which carry the virus and deposit it in both humans and horses.
The Centers for Disease Control and Prevention said the "West Nile virus (WNV) is the leading cause of mosquito-borne disease in the continental United States. It is most commonly spread to people by the bite of an infected mosquito. Cases of WNV occur during mosquito season, which starts in the summer and continues through fall," it stated.
The NHS explained: "Some people develop mild flu-like symptoms, a skin rash and may feel sick. The infection usually goes away on its own without treatment. The virus is not contagious. You only get it from being bitten by an infected mosquito."
Are you visiting Spain this year? Join the debate in the comments section below
Areas at high risk of Nile virus circulation:
Tarifa, Cádiz
Barbate, Cádiz
Benalup-Casas Viejas, Cádiz
Conil de la Frontera, Cádiz
Medina Sidonia, Cádiz
El Puerto de Santa María, Cádiz
Puerto Real, Cádiz
Vejer de la Frontera, Cádiz
Jerez de la Frontera, Cádiz
San José del Valle, Cádiz
Sanlúcar de Barrameda, Cádiz
Trebujena, Cádiz
Bornos, Cádiz
Moguer, Huelva
La Palma del Condado, Huelva
San Bartolomé de la Torre, Huelva
Aljaraque, Huelva
Huelva, Huelva
Lepe, Huelva
Santa Bárbara de Casa, Huelva
Lopera, Jaén
Benahavís, Málaga
Almensilla, evilla
Bollullos de la Mitación, Sevilla
Bormujos, Sevilla
Camas, Sevilla
Castilleja de la Cuesta, Sevilla
Coria del Río, Sevilla
Gelves, Sevilla
Mairena del Aljarafe, Sevilla
Palomares del Río, Sevilla
La Puebla del Río, Sevilla
San Juan de Aznalfarache, Sevilla
Sanlúcar la Mayor, Sevilla
Tomares, Sevilla
Villamanrique de la Condesa, Sevilla
Sevilla, Sevilla
Carmona, Sevilla
Castilblanco de los Arroyos, Sevilla
Mairena del Alcor, Sevilla
Alcalá de Guadaíra, Sevilla
Las Cabezas de San Juan, Sevilla
Dos Hermanas, Sevilla
Lebrija, Sevilla
Morón de la Frontera, Sevilla
Los Palacios y Villafranca, Sevilla
Utrera, Sevilla
These areas are being advised to promote specific prevention plans to minimise the possible impact of infections in humans.
In addition to the urban disinfections, communication plans about the preventive measures will also be put in place.
British tourists visiting these areas are being advised to follow the local Government's prevention and safety measures.
Minister of Health and Families of the Junta de Andalucía, Jesús Aguirre, said that the publication of a risk map was "a preventive diagnosis", as no cases have been registered this year yet.
He explained: "Taking the data that we have had in previous years, we look at the colorimetric index of each of the areas of Andalusia.
"The objective is to know where we have to be more careful in the face of summer."
Many people don't experience any symptoms but the virus can lead to serious health problems and even death.
According to the WHO, 20 percent of those who become infected suffer symptoms such as fever, headache, fatigue, body pain, nausea and to a lesser extent, skin rashes or enlarged lymph nodes.
In some cases, the virus can cause a neuroinvasive disease such as encephalitis, meninigitis or poliomyelitis.
Last year's outbreak, which was the worst Nile virus ever registered in Spain, started in the riverside towns of Coria del Río and La Puebla del Río and then spread to parts of Seville.
It quickly arrived at the coastal resort of Cadiz in August.
Drones were used to spray the areas where the mosquitos had been detected and to kill their eggs.
Additional reporting by Rita Sobot
Source: Read Full Article