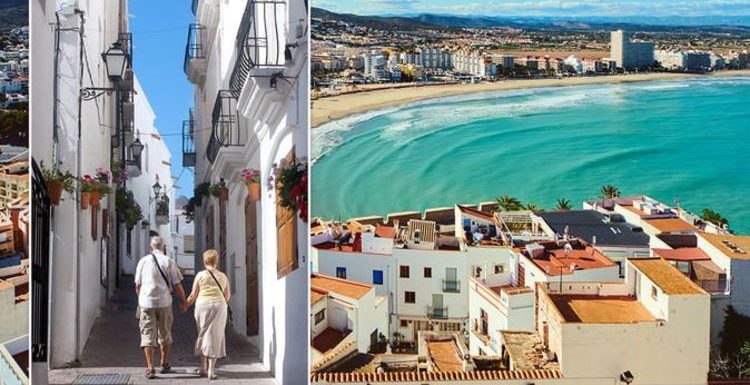 Boris Johnson 'needs to step up for British expats' says expert
When you subscribe we will use the information you provide to send you these newsletters. Sometimes they'll include recommendations for other related newsletters or services we offer. Our Privacy Notice explains more about how we use your data, and your rights. You can unsubscribe at any time.
Spain is home to approximately 285,000 UK expats who have packed up and relocated overseas for a new life. While Brexit may be making things a little bit more difficult for those looking to move abroad, two expats have shared some of the perks which they think make Spain an ideal home.
David Wright is a British expat who hosts his own podcast, Living in Spain with David Wright, and spends time chatting with other UK citizens who have moved to the nation.
When speaking with fellow expat Helen Llewelen, the duo agreed that the "friendly" nature of Spanish locals was one of their favourite things.
Both of the Britons, who currently live in Almería province, pointed out that local people are always on hand to "help" and "encourage" the transition into life abroad.
This is particularly true when trying to learn the Spanish language.
"The Spanish are so friendly," said Helen, who grew up in Devon.
"It is like going back in time in the UK.
"People are interested in who you are and what you do.
"It is really refreshing."
Similarly, David was in agreement, explaining how the welcoming nature of the Spanish members of his local walking club helped him during his divorce.
DON'T MISS
Travel news: Countries that could go green, amber and red this week [PREDICTION]
Hotels in Spain sue Booking.com for 'abusive' practices [INSIGHT]
'Important people' don't need to quarantine MP claims [COMMENT]
"When I first moved here I was married to my first wife and when we divorced after a few years here I was on my own for some time and I ended up going out and joining a walking club and a mountain climbing club here," he said.
"I threw myself in at the deep end. It was a Spanish club.
"I didn't understand almost anything they said and each day when we went out on the walks and the hikes I gradually plucked up the courage to start talking to people and learning the responses.
"My conversation was pretty boring at the beginning. Things like what's your name, where are you from, how old are you, what do you do.
"And it built up from there. From the walking club, the first six months I was with them I ended up getting business from it from Spanish clients for my carpentry business at the time.
"I was invited to parties and made friends and I still keep in touch with these people now."
He added: "If you do make the effort the Spanish people are always very good at helping you along with the language."
Both expats agree that the best way to learning the language and assimilating into the culture is to have as many conversations with Spanish speakers as possible.
"I do find that if you're making an effort talking to a Spanish person in your attempt at Spanish they are so helpful," said Helen.
"You don't get laughed at like you might do in France.
"And they will keep speaking back to you in Spanish and probably understand what you meant even if you didn't quite get it right."
David continued: "I think, in all the years being here, I think being British we're a little bit shy at trying to start a conversation if we're not very good at Spanish.
"And I've never once, and I can honestly say, never once has anyone laughed at me or mocked my Spanish.
"In fact quite the opposite. They've encouraged me when I first started learning and helped me."
Living in Spain with David Wright is available on Spotify.
Source: Read Full Article