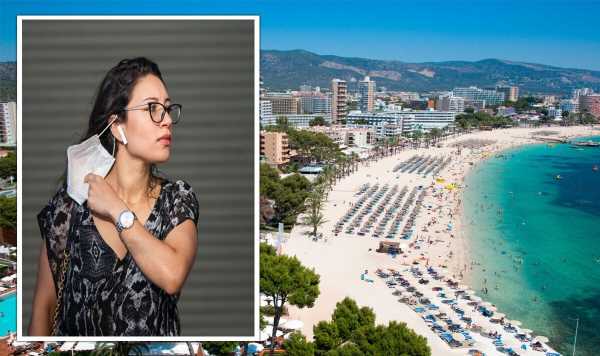 Simon Calder warns of Easter travel chaos on UK roads
We use your sign-up to provide content in ways you've consented to and to improve our understanding of you. This may include adverts from us and 3rd parties based on our understanding. You can unsubscribe at any time. More info
After 700 days, Spain has ditched mandatory indoor mask wearing. Tourists and residents will no longer need to wear a mask from April 20.
From April 20, masks will no longer be compulsory indoors except on public transports and a few other limited circumstances.
Masks will remain compulsory in taxis, planes, health services, care homes and in pharmacies.
Minister of health, Carolina Darias said it was a "very important day" adding that there was a high level of vaccination across the population.
She said there was also some indication that the disease was now less severe than when it emerged.
Minister of territorial policy, Isabel Rodriguez, said: "It is a very special day for the Government and all Spaniards in the fight against the virus.
"We are moving forward as normal. Tomorrow we will be able to get rid of the masks indoors and show our faces and our smiles."
Residents and tourists will now be able to make a personal choice whether to wear a mask in restaurants and shops.
The Government said that people should stay responsible and cover their mouths in poorly ventilated areas.
Workplaces are able to choose whether to enforce a mask policy and schoolchildren will no longer need one.
Masks will not be required in shops, supermarkets, restaurants, bars, gyms, theatres, cinemas or concerts.
People over the age of 60, pregnant women and vulnerable people are advised to wear a mask in busy areas.
The indoor mask rule will be ditched exactly 700 days after it was introduced in May 2020.
Spain is joining the UK and the majority of EU countries in ditching the tough rule on indoor masks.
The rule is likely to apply throughout Spain as well as on the popular island destinations in the Balearics and the Canaries.
Tourists must still wear a mask on all public transport and in taxis and must follow local restrictions at all times.
British tourists will need to be fully vaccinated or have a Covid recovery certificate to travel to Spain.
British teenagers aged between 12-17 can travel to Spain with a negative PCR test from the last 72 hours.
Britons do not need to fill out a passenger locator form in the UK or take any travel tests.
Tourists have faced travel chaos at UK airports in recent weeks as airlines cope with severe staff shortages.
Both easyJet and British Airways have cancelled a number of flights from Heathrow and Gatwick.
Additional reporting by Rita Sobot.
Source: Read Full Article