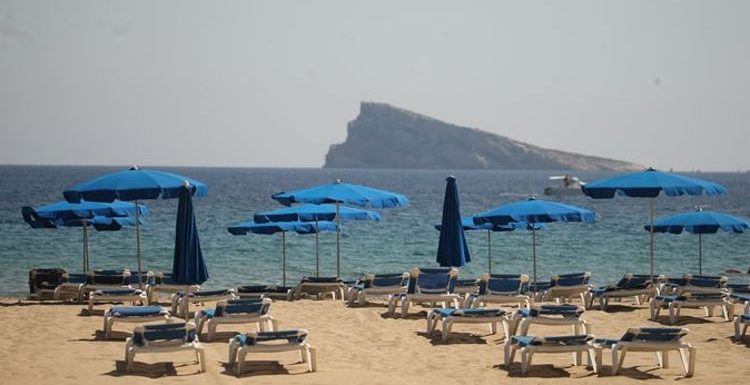 Spain: Paul Scully discusses amber list
We use your sign-up to provide content in ways you've consented to and to improve our understanding of you. This may include adverts from us and 3rd parties based on our understanding. You can unsubscribe at any time. More info
The mayor of Spanish holiday hotspot Benidorm, Toni Perez, has accused the Valencian Government of "betraying" the tourism sector after hotels have seen an unprecedented number of cancellations for August.
Benidorm's mayor said the new restrictions are a "betrayal of the Costa Blanca tourism sector."
"The Government is more worried about closing restaurants and hotels, rather than health management and vaccinations," he said.
The mayor continued: "Hotels are already getting their first cancellations for August and it will get worse as tourism on the Costa Blanca is sunk."
The regional Government has imposed strict measures in order to fight the rising COVID-19 cases.
What do you think? Join the debate in the comments section here

New restrictions coming into place on July 26 include:
Night curfew between 1 am and 6 am across all the Valencia region
Restaurants and bars have to close by 12.30 am
Gathering are limited to a maximum of 10 people
The mayor of Benidorm said the Government promised a "summer of recovery" and all they have now is "a curfew in the main tourist towns in the Alicante region locking up over 2.5 million people in mid-summer."
Hoteliers in Benidorm have reported an occupancy rate of only 56.8 percent.
Over 30 percent of the hotels in the city are currently closed and have no plans to open this summer.
The Hosbec association explained that due to the UK's travel restrictions, the majority of guests are Spanish nationals.
"The opening of the British market still has no effect on hotel occupancy, but the figures we handle on scheduled air capacity are interesting.
"For the month of August, there are currently 350,000 seats scheduled from the United Kingdom to the Alicante-Elche airport.
"While 34,000 seats are planned for Valencia ."
However, the situation could get even worse in August, as there are fears Spain could soon move to the UK's "amber plus list."
After the latest rise in COVID-19 cases, Spain is at high risk of being moved to the UK's "amber plus" list.
At the moment, are on the amber list, meaning full-vaccinated Britons don't have to self-isolate on return.
However, if moved to "amber-plus", UK tourists will have to self-isolate for 10 even days, even if they have been fully vaccinated.
Due to concerns over the Beta variant, Spain and Greece could move to "amber plus" before the next travel review.
Source: Read Full Article