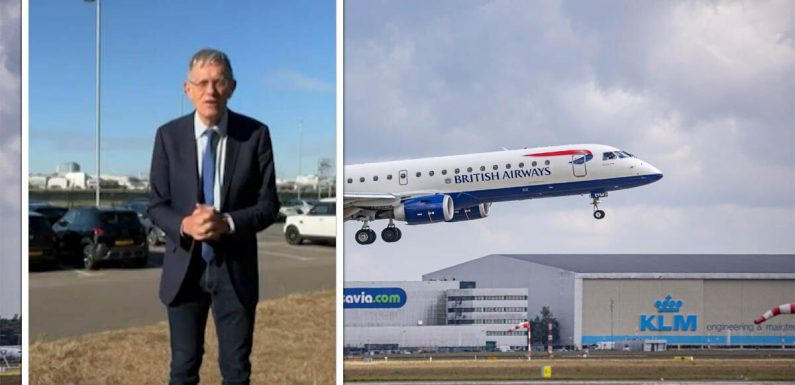 Travel insurance 'a concern' during airline strikes says Calder
We use your sign-up to provide content in ways you've consented to and to improve our understanding of you. This may include adverts from us and 3rd parties based on our understanding. You can unsubscribe at any time. More info
Speaking from Heathrow, Simon told Kay Burley that chaos was the "story of the summer". British Airways workers are planning strike action while easyJet's chief operating officer has resigned.
Simon said: "The story of the summer is really set out here at Heathrow. Hundreds of people getting away as normal but not as many as there might be.
"British Airways, they've cancelled slightly over 100 flights today, that's basically due to a shortage of resources.
"But crucially not at the very last minute. Yes there's been overnight delays and so on.
"The hotel I'm currently adjacent to was completely full last night because of various problems during the evening. However, most people are getting away."
The majority of BA passengers with cancelled flights are informed a few weeks before the departure date.
However Simon said British Airways was facing a couple of upcoming problems this summer as it cancels one in nine flights.
He said: "Yet more cancellations for the summer. That will be because if they can give up some of their flying this summer to keep the operation going sensibly for the rest of them, they won't lose their slot.
"But the other thing hanging over their heads is 700 passenger service agents voting overwhelmingly to strike."
British Airways Heathrow staff have voted for strike action over an ongoing pay dispute.
As yet, the dates for the strike action haven't been announced although it is expected to hit key peak summer travel.
According to new research from Which? nearly half of insurance policies don't cover cancellations caused by industrial action.
However, Simon said: "That is a concern but for the vast majority of people, insurance isn't really relevant.
"If your flight is cancelled, the airline has to get to your destination by hook or by crook and that includes spending an awful lot of money buying you a seat on a rival airline.
"Unsettling but I think on the scale of the problems, not too much of an issue."
Simon compared the departure of easyJet chief operating officer, Peter Bellew, to the England football team losing Gareth Southgate.
He said: "Just imagine, England lose their first group match at the World Cup, Gareth Southgate leaves and they're left behind.
"He resigned or perhaps was resigned yesterday. There has been an awful lot of unhappiness particularly among pilots and cabin crew."
easyJet and Ryanair staff in Spain are taking industrial action throughout July over working conditions and pay.
Action planned for the end of July could impact British holidaymakers heading to Spain for the summer.
British holidaymakers should be offered an alternative flight on their intended day of travel if their flight is cancelled.
They should receive cash compensation if their flight is cancelled with less than two weeks' notice and it can be proven to be the airline's fault.
Source: Read Full Article