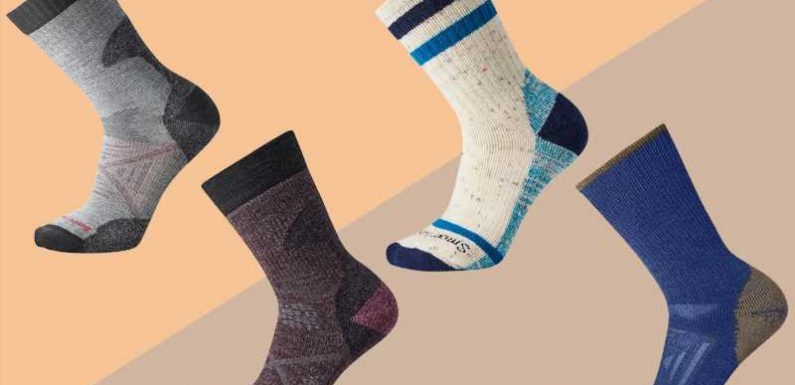 Embarking on winter activities — from hiking and camping to snowboarding and simply dining outdoors — invariably leads to cold toes. Even if you've pulled on multiple layers of ultra-warm socks and slipped into fleece-lined boots, a few hours of trekking through snow in below-freezing temperatures ultimately results in frosty feet. 
To combat that loss of feeling, consider purchasing a pair of Smartwool socks, a favorite among hikers and skiers. The beloved hiking and skiing socks come in a variety of thicknesses, allowing you to pull on a pair that best suits the activity, whether you're lacing up trail shoes or stepping into ski boots. 
To buy: Men's PhD® Outdoor Heavy Hiking Crew Socks, smartwool.com, $27
For winter hiking and camping, opt for a pair of the heavier variety, stitched out of ZQ-certified merino wool that helps keep feet warm, dry, and comfortable (and itch- and stink-free). The brand's Indestructawool technology makes the socks both durable and comfortable, and each set is finished off with mesh ventilation zones that provide moisture management and maximum breathability. Plus, the socks have been designed with heavy cushioning, which absorbs high impact while still keeping your feet toasty.  
Smartwool also offers lighter and medium versions of the hiking socks, so there's bound to be something for everyone. They've been designed in both men's and women's sizes, and in a variety of colors like gray, taupe, charcoal, black, navy, and capri. 
Gallery: Our 10 favorite matching sweatsuits for WFH life (INSIDER)
To buy: Women's PhD® Pro Outdoor Medium Hiking Crew Socks, smartwool.com, $30
Load Error
Shoppers can't stop raving about these life-changing, essential-for-winter socks, with many mentioning how they're "warm and comfortable" as well as being "the best hiking socks on the planet." 
"When someone tells you to get hiking socks, they're going to recommend Smartwool PhDs, and that's for a reason," one reviewer shares. "These socks have a reputation and they live up to it. They're durable, comfortable, and you're going to want every color they make. Get 'em." 
"These are my go-to socks for long hikes and backpacking trips," another shopper writes. "They provide great cushion and protect my toes when hiking down the mountain."
Shop the socks directly through Smartwool, where they retail between $26 and $30, and never suffer from frozen feet again.  
To buy: Men's PhD® Pro Outdoor Light Hiking Crew Socks, smartwool.com, $28
To buy: Women's Hike Heavy Heritage Crew Socks, smartwool.com, $26
Love a great deal? Sign up for our T+L Recommends newsletter and we'll send you our favorite travel products each week.
Source: Read Full Article