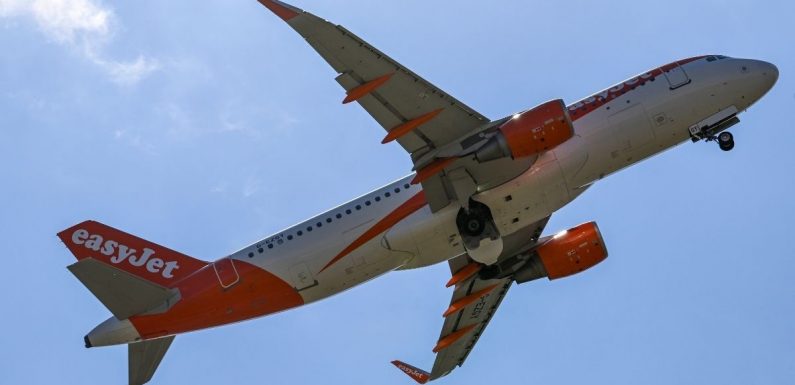 Simon Calder issues warning about EasyJet
We use your sign-up to provide content in ways you've consented to and to improve our understanding of you. This may include adverts from us and 3rd parties based on our understanding. You can unsubscribe at any time. More info
Families across the UK are preparing to go abroad this half-term, with children getting a coveted week off of school. However, some families' plans will be scuppered.
The popular airline EasyJet revealed that around 24 flights would be cancelled a day from London's Gatwick Airport between May 28 and June 6.
It told would-be holidaymakers that the cancellations are necessary to ensure reliable services over a particularly busy period.
Factors such as air traffic control restrictions, runway works and airport handling delays have also contributed to this decision.
This is not the first large-scale cancellation by EasyJet.
On Thursday, May 26, the airline had to cancel 200 flights.
This was due to a software failure.
Many were disappointed by their cancelled flights and took to Twitter to voice their annoyance towards the airline.
@Distrusita tweeted: "EasyJet NEVER AGAIN.
"Flight was cancelled while waiting for gate information. Because our luggage was already in the aircraft had to wait, [no] hotel rooms available, no flights. Had to spend in total £1500 in new flights, hotels and taxis."
@DanMellow seconded this: "Arrived at Gatwick last night. Paid to stay in Premier Inn so I could be at airport at 3:45am for 6am flight to Palma.
"Queued through bag drop for an hour to find out flight was cancelled. No help desk – appalling service. I want reimbursement for expenses for hotel, taxis and flight! [sic]."
@Turbostar19 said: "My next EasyJet flight will be my last!
"Unreliable, not exactly cheap any more & having to contend with a very obstructive process for dealing with refunds. Promises made by EasyJet personnel aren't worth a fig."
One woman, Tracey, tragically had to watch her father's funeral online in a hotel when her flight was cancelled minutes before departure.
EasyJet has reached out to her with an apology and compensation, reported the BBC.
While EasyJet passengers are set to face further inconvenience this half-term, the airline has assured holidaymakers that the flight cancellations are not due to a software failure.
Rather, the cancellations hope to ensure reliable services over the busy period.
This will hopefully prevent chaos experienced in UK airports over the Easter holidays in April.
The airline assured customers that those affected will be informed from today and given the option to rebook or receive a refund.
They can also apply for compensation in line with regulations.
Some took to social media to voice their thoughts on the airline's latest move.
@HorrabinPeter tweeted: "Shambles of a company. Hope they go bust."
@Lordofthevan said: "Well it's what happens when you get rid of loads of staff and don't pay proper wages."
But not all jet-setters will be affected by cancelled flights, and around 8,000 flights are expected to depart from airports across the UK this weekend.
Source: Read Full Article