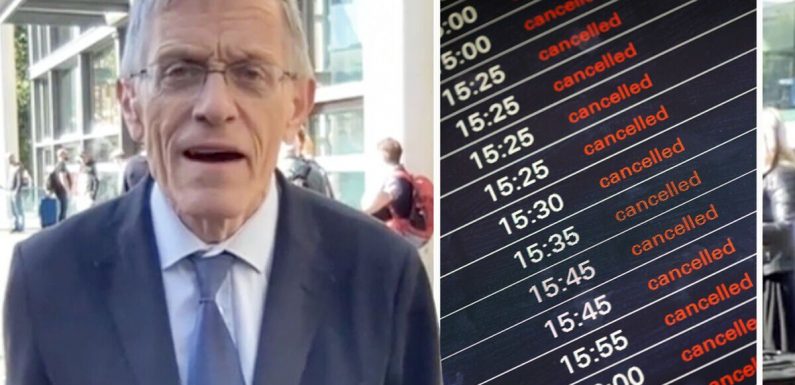 Simon Calder explains your rights if your flight is cancelled
We use your sign-up to provide content in ways you've consented to and to improve our understanding of you. This may include adverts from us and 3rd parties based on our understanding. You can unsubscribe at any time. More info
The half term holidays are supposed to be relaxing but may actually cause stress for families whose flights are cancelled. Simon Calder told the BBC what travellers can do if they find themselves in this position.
BBC Breakfast presenter Charlie Stayt asked: "If you're one of those people whose flights have been cancelled, just go through their rights."
Simon explained: "When you get the cancellation message from the airline, it says 'sorry, we've cancelled your flight, here's what you can do, you can get a refund' – for most people they want their holiday, not a refund.
"Or you can rebook – they say go through to the app or website, that is of course, only going to delivery EasyJet flights."
"I was talking to someone who's Madeira flight was cancelled and they rebooked for Monday, as it was the only one, the presenter said.
"No, that's not correct," the travel expert stated.
"The airline that cancels a flight has to get you to your destination on the day you were supposed to get there.
"If that means they have to spend hundreds of pounds paying for a flight on British Airways, Ryanair or Jet2, that's what they have to do.
"It's the law," Simon said. "So you can rebook on other airlines.
"The other thing which airlines quite often forget to remind you, if they cancel a flight with less than two weeks notice, they have to paid you compensation.
"£220 for shorter flights, anything over 1500km in Europe or North Africa, is £350, those are your legal entitlements."
This means that half-term holidayers will not be left in the lurch.
It comes after Gatwick has experienced several flight cancellations.
Budget airline EasyJet announced they would be cancelling more than 200 flights from Gatwick Airport between May 28 and June 6.
This is to ensure reliable services over a particularly busy period.
Many families are going away for the first time in two years, so there is a huge influx of travel currently.
Simon revealed: "Planes, Gatwick looking pretty grim this morning, I'm afraid.
"Very, very busy, crucially an awful lot of cancellations.
"easyjet now 28 cancellations, two and from Gatwick, they decided to cancel 240 flights pre-emptively, between now and Monday week, simply because they were getting so many on the day cancellations.
"So therefore people were told 'Going to Seville, going to Marrakesh, those flights have all been cancelled, and I'm afraid we've still got more cancellations today; Porto in Portugal and Milan they've just dropped off the schedules.
"Not just EasyJet, TUI has just cancelled the flight to Minorca from Gatwick, and said 'sorry your holiday is off.'"
Source: Read Full Article