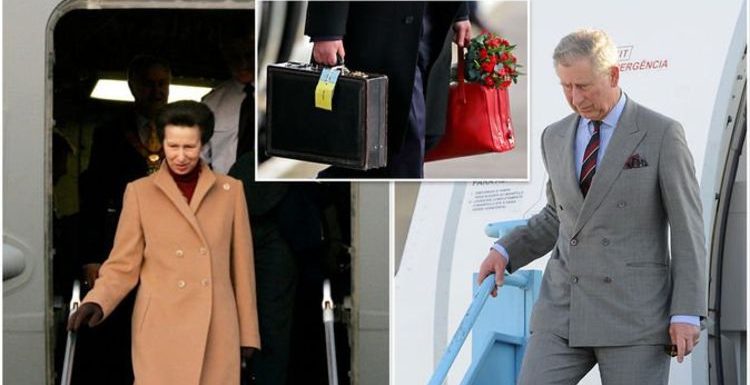 Princess Anne 'deeply respected' says expert
When you subscribe we will use the information you provide to send you these newsletters. Sometimes they'll include recommendations for other related newsletters or services we offer. Our Privacy Notice explains more about how we use your data, and your rights. You can unsubscribe at any time.
Princess Anne and Prince Charles attend the most engagements out of any of the royals most years, with the Princess Royal dubbed the hardest working royal in 2017 alone. As part of their royal duty, the Queen's children must represent the monarchy at a number of events and engagements all around the world.
As a result of the numerous engagements packed into trips, the Royal Family don't often pack light.
With so much luggage to transport from one corner of the world to the next, there has to be a streamlined way for the royal staff to know which bag belongs to which royal.
This is why the Royal Family has its own secret baggage tag system which Princess Anne and Prince Charles are a part of.
To an onlooker, this rainbow of luggage tags may mean absolutely nothing, however, they have a distinct meaning for royal staff.
According to reports, Princess Anne is said to travel with a green baggage tag that displays her name.
The Prince of Wales, meanwhile, has a red one.
The siblings are not the only two royals who are assigned a special colour coded label for their travels, though.
Queen Elizabeth's luggage is tagged with a yellow label that simply reads "The Queen".
DON'T MISS
Holidays 2021: Full list of countries accepting vaccinated Britons [FULL LIST]
Green list expanding 'soon' but what countries will be on green list? [PREDICTION]
When is the next travel review? 12 potential green list countries [INSIGHT]
The Duchess of Cambridge has also been know to use yellow tags which away on an official tour.
Prince William, like his father, has been assigned red in the past, meanwhile, his son Prince George has been given a blue tag.
Not only are there tags labelled which bag belongs to which royals, but luggage is also often assigned a second tag that directs where it needs to go.
If the second label is blue this means the bag is wanted on the aircraft.
A green secondary tag means the bag is being directed to the hotel, while a yellow label means the tag is going to a residence.
A residence tag is normally needed if they are visiting someone at their home, or if an official in the destination has opened up their home for the royals to stay in.
Of course, the Royal Family members such as Princess Anne aren't carrying their own luggage.
Often the royals travel with an entourage of support staff which can range from public relations teams to hairdressers.
In the past, these staff members have been photographed helping load and unload luggage from the aircraft.
When it comes to luggage, the Royal Family don't use any old holdalls or suitcases.Kate and Prince William, for example, are said to have a collection of high-end luggage from the luxury travel brand Globe-Trotter.
Kate is also reported to be a fan of Longchamp and Cath Kidston bags to use as hand luggage.
She has been photographed carry bags from both brands in several colours and sizes.
Source: Read Full Article