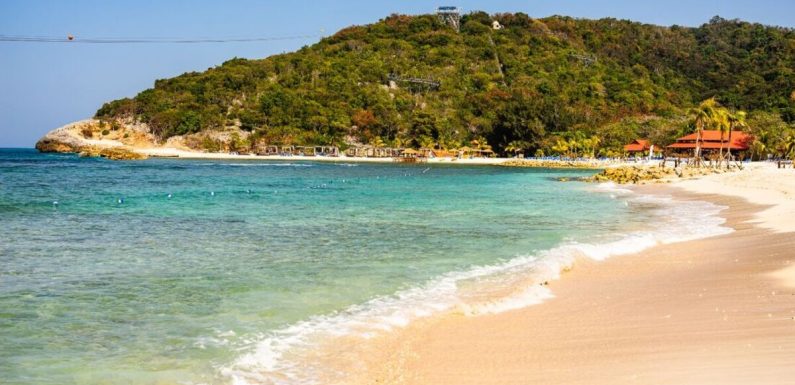 We use your sign-up to provide content in ways you've consented to and to improve our understanding of you. This may include adverts from us and 3rd parties based on our understanding. You can unsubscribe at any time. More info
Royal Caribbean has said it will continue to take cruise holidaymakers to Haiti despite the UK Foreign Office warning against travel to the Caribbean island. It said it was "continuously" monitoring the situation.
The latest Foreign Office advice for Haiti "advises against all travel" to the Caribbean island nation.
It said: "There are currently no British consular officials in Haiti and our ability to provide consular assistance is severely limited and cannot be delivered in person within Haiti.
"If you choose to travel to or stay in Haiti against FCDO advice, you should keep a low profile.
"Be vigilant, try to avoid all crowds and public events, and take appropriate security precautions."
The advice warns that the current security situation in Haiti is "highly unpredictable" and could "worsen further".
Royal Caribbean takes passengers to its own beach resort on the north coast of Haiti, Labadee.
The private resort is leased to the Royal Caribbean group and the cruise company celebrates its "pristine sands, coral reefs and jungle-covered hilltops".
Ships stopping at Labadee in the coming months include Oasis of the Seas, Harmony of the Seas, Wonder of the Seas and Odyssey of the Seas.
Don't miss…
Bluebell wood 'damaged' by tourists – warning [LATEST]
Cruise guest worries 'skimpy' bikini will break dress code [CRUISE]
Travel expert explains how to avoid hotel cancellation fees [WARNING]
A Royal Caribbean International spokesperson told Express.co.uk: "The safety of our guests and crew is our top priority.
"We work closely with governmental authorities around the world and are aware of the recent FCDO travel advice for Haiti.
"At this time, we have made no itinerary changes to our calls into Ladadee. We continuously monitor the situation on the ground and make adjustments as needed to ensure the wellbeing of our guests and staff."
The beach resort is fairly far from Haiti's capital city, Port au-Prince, which is towards the south of the country.
Haiti has been in a state of turmoil since the assassination of its president, Jovenal Moise, in 2021.
Gang violence and kidnappings have risen since the assassination and according to reports, gangs control some areas of the capital city.
At the start of March, the medical charity Doctors Without Borders, had to temporarily close its hospital in a violence-hit area of Haiti's capital.
It said it could no longer guarantee the safety of staff and patients and one medical advisor described scenes outside as a "war scene".
The Foreign Office advises that armed robbery is "common" in Haiti and victims have been attacked in "broad daylight".
It added: "There have been kidnappings involving foreign nationals, including missionaries, aid workers and children.
"Most victims have been released upon the payment of a ransom. In some exceptional cases, however, victims have disappeared or have been killed."
British tourists can see the latest advice for travel to Haiti on the Foreign Office website.
Source: Read Full Article