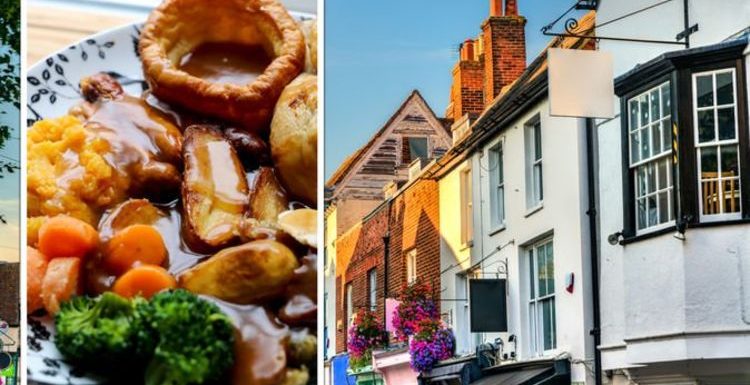 Harveys Kitchen reveal their top tips for 'perfect' Sunday roast
We use your sign-up to provide content in ways you've consented to and to improve our understanding of you. This may include adverts from us and 3rd parties based on our understanding. You can unsubscribe at any time. More info
Sundays are for roast dinners. With the colder weather upon the country, a hearty meal may once again be on Britons' menus at the weekend.
A new study by Last Minute Cottages analysed data to find the best places in the UK to eat a good roast dinner.
The country's "Roast Capital" has been named.
Canterbury took the top spot as the best place to get a roast dinner.
It was followed by Newquay and Norwich.
READ MORE: The UK is dryer than Europe: Rainiest cities named
Matthew Fox, CEO of the Snaptrip Group, said: "It was interesting to see Canterbury at the top of the list and London at the bottom, however when you look at the number of top-rated-roasts per 100,000 residents, it's clear London just doesn't have enough to go around."
The last-minute holiday marketplace also surveyed 10,000 Britons on their roast dinners' preferences.
Some of the weirdest items served with a roast dinner were pancakes, boiled eggs and prawns.
Also mentioned were pork pies, chips and cheesy pasta.
And 84 percent of Britons voted against ketchup and mayonnaise being eaten with a roast.
Britons were being traditional with their roasts.
The most important items to be included in a roast were unsurprising.
For 97 percent of Britons, a roast needs gravy.
Roast potatoes were a must for 94 percent of Britons.
Meat and Yorkshire pudding were also important items for 84 percent of respondents.
Lastly, carrots needed to be included in a roast for 81 percent of Britons.
The least important items were leeks, Brussel sprouts, pigs in blanker, cabbage and cauliflower cheese.
Matthew said: "Our survey also threw up some surprises – nearly half of people don't think pigs in blankets should be an all-year-round item – all I can say is I know which side of the fence I sit on…"
When it came to meat, beef was the preferred choice for two fifths of Britons.
This was followed by ham and chicken, both at 21 percent.
The top 10 'Roast Hotspots'
1. Canterbury
2. Newquay
3. Norwich
4. Belfast
5. Brighton
6. Nottingham
7. Newcastle
8. Portsmouth
9. Southampton
10. Cheltenham
Last Minute Cottages
Source: Read Full Article