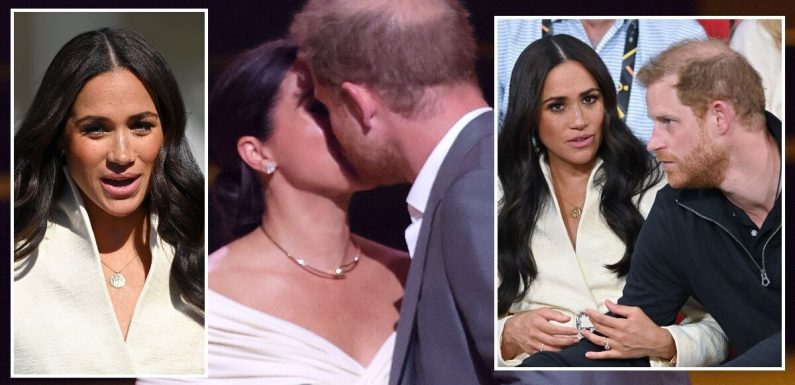 Prince Harry and Meghan 'will spoil' jubilee says Levin
We use your sign-up to provide content in ways you've consented to and to improve our understanding of you. This may include adverts from us and 3rd parties based on our understanding. You can unsubscribe at any time. More info
Meghan Markle and Prince Harry had to follow royal protocol when members of the Royal Family. This included on royal tours when they were representing the crown abroad. But since March 2020, the Duke and Duchess of Sussex have lived in the USA where they do not have to follow royal protocols and traditions.
They are planning on returning to the UK next month to celebrate the Queen's Platinum Jubilee.
What royal travel rules will Meghan have to start following?
Daena Borrowman, the Marketing Manager at jewellerybox spoke to Express.co.uk about rules the Royal Family must follow, especially when travelling.
She said: "There are dozens of protocols in place that stylists and dressers of the royals have to familiarise themselves with to prevent working royals from landing into embarrassing fashion faux pas.
"It is customary for senior royals to dress modestly during public appearances, in order to preserve the sanctity of the royal family.
"Royal women are expected to wear pantyhose whenever their legs are exposed in public.
"Pennies or small weights are sewed into the hemlines of dresses to avoid them being blown up by a strong gust of British wind. Royal women are also discouraged from showing off their cleavage."
Therefore Meghan will have to follow these rules when she is back in the UK.
She will also have to pack a black outfit in her bag, as is customary for all royals according to the expert.
Daena noted: "While the Queen favours bold colours and prescribes them to her family because royals are meant to be easily distinguishable in a crowd, a tragedy delivered a life lesson, giving rise to a whole new protocol that applies to this date.
"When Queen Elizabeth's flight landed in England on the death of her father, her dresser realised they hadn't packed a black mourning outfit for the new mourning Queen to be received by her ministers.
"Ever since then, Royal Family members have to compulsorily pack a black outfit when travelling."
Meghan famously broke royal protocol when at the British Fashion Awards when pregnant in 2018. She wore dark nail varnish when according to this expert, the Queen only approves clear or nude nail varnish.
Daena continued: "Royal women are not permitted to wear bright or dark nail paint on their fingernails.
"Only nude shades, sheer whites and light pinks are allowed. A firm favourite of the Queen's is Essie's 'Ballet Slippers'.
"In fact, for their weddings, both the Duchess of Cambridge and the Duchess of Sussex, famously combined two nude nail colours.
"While Kate wore a mix of, '28 Rose Lounge' from Bourjois and the now discontinued '423 Allure' from Essie, Meghan wore a mix of CND Shellac's 'Unmasked' and 'Negligee'.
"However, both Duchesses have occasionally favoured dark red or oxblood toenails on open-toed heels."
Meghan will have to follow accessory protocols too when she returns to the UK.
Daena said: "Royal women are expected to wear hats or fascinators at formal events to denote their high social standing.
"Handbags or clutches also serve as a handy social tool. They are always held in the left hand so their right hand is free to wave at the public or greet people, yet royals may sometimes hold them using both hands to avoid shaking hands.
"The Queen, however, uses her handbag to send social signals to her staff to indicate that she is done with her meal or would like to end a conversation."
Source: Read Full Article