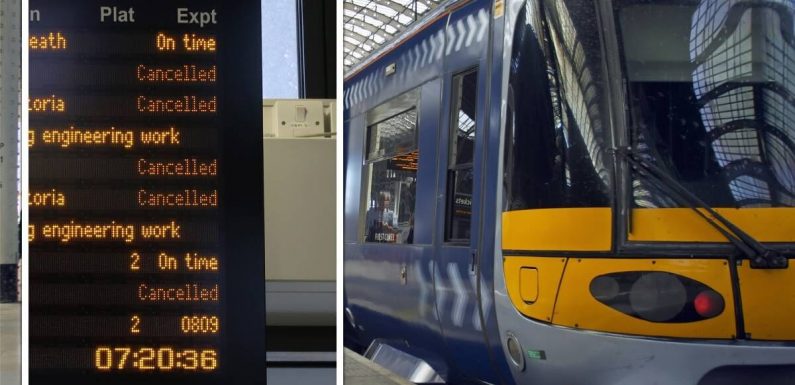 Rail strikes: RMT union chief criticises government response
We use your sign-up to provide content in ways you've consented to and to improve our understanding of you. This may include adverts from us and 3rd parties based on our understanding. You can unsubscribe at any time. More info
The Rail, Maritime and Transport (RMT) union members will "shut down the rail system" across 13 rail companies in England, Scotland and Wales later this month, wreaking havoc on summer travel and work plans. Express.co.uk has everything you need to know about the upcoming strikes.
When will the strikes take place?
Strikes are due to take place on June 21, 23 and 25.
The strikes range across the entire breadth of rail workers, from drivers, guards and catering staff to signallers and track maintenance workers.
The scope of the strikes is not entirely clear just yet. It is not known exactly how many services will be cancelled, or if trains will only be running for part of the day.
Which providers are striking?
Of the nation's rail companies, 13 will be directly affected by the strikes.
These are:
• Chiltern Railways
• Cross Country Trains
• Greater Anglia
• LNER
• East Midlands Railway
• c2c
• Great Western Railway
• Northern Trains
• South Eastern Railway
• South Western Railway
• TransPennine Express
• Avanti West Coast
• West Midlands Trains
Workers for Network Rail, which maintains the railways throughout Britain, will also be on strike.
Why are train staff striking?
Train staff are striking due to a dispute about pay, conditions and potential job cuts.
The RMT said members working for train companies have been subject to "pay freezes, threats to jobs and attacks on their terms and conditions".
Network Rail is currently planning to cut 2,500 jobs in the next two years to make a saving of £2 billion.
DON'T MISS
RMT chief erupts at 'selfish and irresponsible' Grant Shapps [VIDEO]
Fury over tube strikes as HUGE paypacket revealed [REPORT]
Jon Kay blasts rail union boss' strike plan 'Train drivers earn £54k!' [INSIGHT]
But the RMT is arguing that these roles are crucial to the safety of the national rail network, and that cutting them increase the incidence of accidents and other safety-related concerns.
The RMT's general secretary, Mick Lynch, said the union remained open to meaningful negotiations with the industry and ministers, but added: "Railway workers have been treated appallingly and despite our best efforts in negotiations, the rail industry with the support of the Government has failed to take their concerns seriously.
"We have a cost of living crisis, and it is unacceptable for railway workers to either lose their jobs or face another year of a pay freeze when [RPI] inflation is at 11.1 percent and rising.
"Our union will now embark on a sustained campaign of industrial action which will shut down the railway system.
"Rail companies are making at least £500m a year in profits, while fat cat rail bosses have been paid millions during the Covid-19 pandemic.
"This unfairness is fuelling our members' anger and their determination to win a fair settlement."
The Rail Delivery Group, a representative of rail companies, has pleaded for the union to call off the action, saying "no one wins in the event of a strike".
Network Rail has said it will do everything it can to avoid the scheduled industrial action, but this would require an agreement to me made with the RMT.
Source: Read Full Article