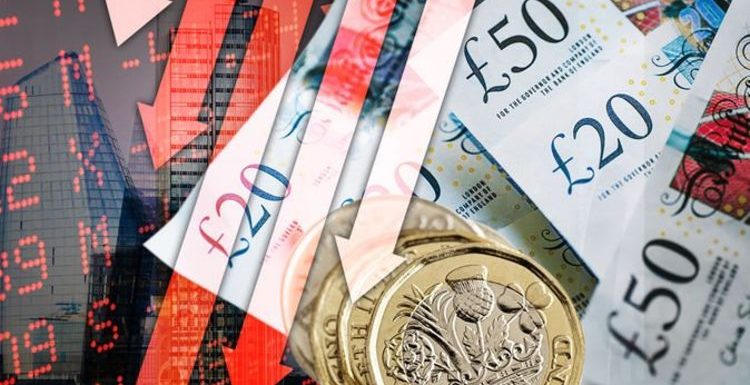 Travel: Ryanair CEO admits he 'doesn't understand' UK rules
When you subscribe we will use the information you provide to send you these newsletters. Sometimes they'll include recommendations for other related newsletters or services we offer. Our Privacy Notice explains more about how we use your data, and your rights. You can unsubscribe at any time.
After being pulled beneath the 1.16 handle yesterday morning, sterling has since not moved much and remained there throughout the day. The pound's performance today is expected to be the same due to a quiet financial calendar, according to one expert.
The pound is trading at a rate of 1.1588 against the euro at the time of writing, according to Bloomberg.
This is slightly down from yesterday morning where sterling stood at the 1.1592 mark.
On Tuesday, the pound performed well as it traded at a rate of 1.1646 against the euro, and a few days prior, it was doing even better.
Over the weekend, sterling-euro reached new highs and experienced its best day of the year so far.
However, today is not looking good for the pound.
According to Michael Brown, currency expert at Caxton FX, sterling is not expected to reach above where it currently stands.
Mr Brown told Express.co.uk: "Sterling-euro had a poor day yesterday, pulling beneath the 1.16 handle, as broad-based risk aversion posed headwinds for the risk-sensitive pound.
"Today's calendar is light, meaning that the present downside momentum may well be sustained."
DON'T MISS:
'Flight £20 Covid test £100' Simon Calder warns Brit holidaymakers [COMMENT]
British Airways launches £40 PCR test [INSIGHT]
Can you travel to amber list countries? Government issues warning [WARNING]
Yesterday, Mr Brown explained that sterling was not able to benefit this week from "the broadly weaker dollar to the extent that other core G10s have been able to".
He predicted a poor performance from the pound, saying: "This morning's inflation data, although likely to show a spike in UK prices, will largely be ignored given it is skewed by a range of one-off factors.
"Therefore, another rangebound day may lie ahead."
George Vessey, UK Currency Strategist at Western Union Business Solutions, also gave his insight on the current pound-euro and pound-dollar exchange rates yesterday.
Mr Vessey said that the pound's poor performance is due to the euro's strength as Europe's economies start to reopen post-lockdown.
However, the UK's inflation rate has increased in recent months, and if the pound could strengthen if this continues.
"The post-lockdown spending spree in the UK has begun, as the UK's inflation rate doubled in the month of April," Mr Vessey explained.
"Consumer prices climbed 1.5% from a year earlier last month following a 0.7% rise in March.
"Sterling's reaction was generally muted, but it could strengthen if this higher inflation trend persists."
The Currency Strategist added: "GBP/USD is hovering just shy of $1.42 after a strong jobs report hoisted sterling higher yesterday.
"GBP/EUR is back under the €1.16 mark though following broad-based euro strength as European economies continues to slowly reopen."
So, what does this all mean for your travel money?
The ban on international travel was lifted on Monday, May 17, meaning that Britons are now permitted to holiday abroad.
The UK's travel traffic lights system means that holidaymakers can travel to "green" countries without having to quarantine on return.
However, travel experts have warned that "extra caution" is due in the coming weeks when booking holidays and swapping travel money.
James Lynn, CEO and co-founder of Currensea, said: "While it's excellent news international travel is opening up, the proposed traffic light system will mean there will still be an element of disruption this summer, both to travel companies and consumers.
"Extra caution and careful planning will be really important when it comes to planning holidays this year – and keeping abreast of the latest updates will be key.
"Financial safety when travelling must also be top of mind for consumers. Sudden changes and cancellations, which remain likely could put travellers at risk if the right precautions aren't taken."
Source: Read Full Article