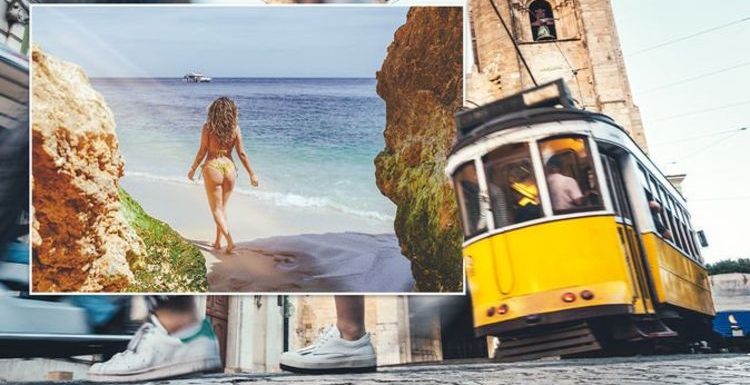 Travel: Simon Calder says Portugal is 'looking good'
When you subscribe we will use the information you provide to send you these newsletters. Sometimes they'll include recommendations for other related newsletters or services we offer. Our Privacy Notice explains more about how we use your data, and your rights. You can unsubscribe at any time.
Portugal could make it onto the UK's "green list" for travel if Covid cases remain low in the country. Ahead of the green list announcement, Portugal officials have insisted they aim to "avoid" the need for visitors to enter into quarantine.
Portugal's Secretary of State for tourism Rita Marques told an online conference the country would try "at all costs to avoid quarantines and additional COVID-19 tests" if the European Union's (EU) COVID-19 passport plans move ahead.
Europe is expected to begin steps towards adopting a bloc-wide vaccination passport system this week.
Ms Marques said tourists should understand this summer would not be "completely normal", but that the nation would "certainly bet on maintaining the basic principles of free movement of people and goods".
Portugal's tourism industry, which has increasingly been on the rise, suffered its worst year since the mid-1980s in 2020 when the pandemic took hold.
Further to this, Brexit is also being seen as an obstacle for the tourism industry in Portugal.
"Portugal is still identifying many issues that need special care due to Brexit but the Portugal brand is strong, particularly among the British," said Ms Marques.
"The UK will remain…the leading outbound country".
Between the beginning of the pandemic in March 2020 and February this year, Portuguese hotel revenues fell 74 percent to €1.1 billion as numbers of domestic and foreign tourists slumped 71 percent, according to official data.
DON'T MISS
Prince Philip: Duke's very 'honest' trick to cope when travelling [INSIDER]
Travel hopes raised as 'green light' list of countries prepared [INSIGHT]
Greece holidays: FCDO update following 'review' of Covid restrictions [UPDATE]
There is increasing speculation Portugal could be one of the countries included on the UK's "green list".
Research conducted by the PC Agency regarding which countries could be branded low risk include Malta and Portugal.
Both nations have managed to keep Covid cases low.
In addition, Portugal has vaccinated 11.1 percent of its population, which bodes well for holidays this summer.
The data also shows in the seven days to March 31, Portugal recorded a 19 percent decline in infection rates.
Though Portugal was previously on the UK "red list" for travel, this was due to its connectivity with South America, where a new COVID-19 variant was causing concern.
Heathrow Airport's boss John Holland-Kaye has also added further encouragement for Britons eyeing Portugal as a safe holiday hotspot.
He said: "In terms of Europe, we are three months away from the summer holiday season.
"Already there are countries that would be green or close to green – I'm thinking places like Portugal – that are very popular."
If Portugal makes it onto the "green list", Britons will not need to self-isolate when they return home.
They will, however, have to undertake a series of tests before and after travelling.
Source: Read Full Article