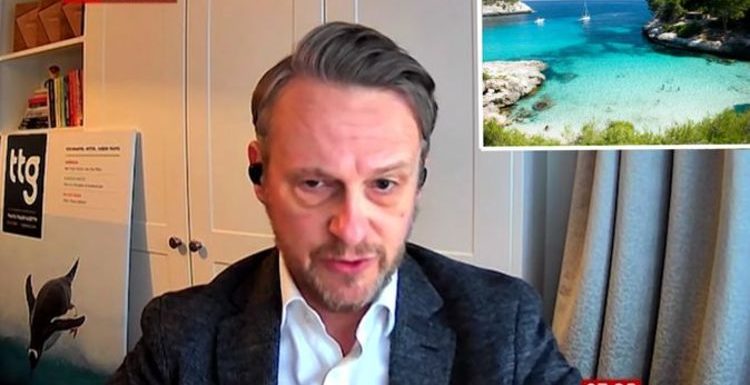 Travel expert says it's 'encouraging' to see destinations opening
When you subscribe we will use the information you provide to send you these newsletters.Sometimes they'll include recommendations for other related newsletters or services we offer.Our Privacy Notice explains more about how we use your data, and your rights.You can unsubscribe at any time.
Daniel Pearce, Chief Executive of Travel Trade Gazette, appeared on BBC Breakfast this morning to speak about the latest travel news. He said that some European countries may open their borders to Britons as early as May.
Spain and Portugal are both popular holiday destinations for Britons, attracting an average of 18 million and three million UK visitors annually.
Currently, travel to both nations is illegal due to Britain's lockdown restrictions.
However, Prime Minister Boris Johnson has already announced that travel restrictions in England will be lifted on May 17.
When this happens, Britons may be allowed to travel to Portugal and some Spanish islands, as well as Cyprus, if they prove that they have received the COVID-19 vaccine.
The Spanish government has suggested Britons could be allowed to visit the Canary and Balearic Islands, as long as they have tested negative for COVID-19.
Cyprus' government has also said that they will welcome tourists to the nation if they have received both doses of the coronavirus vaccine.
Meanwhile, Rita Marques, Portugal's tourism minister has expressed her hopes for the country to soon open its borders to tourists who have either been vaccinated or tested negative for the coronavirus.
She said: "I do believe that Portugal will soon allow restriction-free travel, not only for vaccinated people, but those who are immune or who test negative. We hope to welcome British tourists from 17 May."
DON'T MISS:
UK travel alert: Britons must now carry Covid form to be able to leave country from Monday
Daniel Pearce spoke to BBC Breakfast this morning about how "encouraging" it is to see that some destinations may be able to open.
Answering the BBC studio's questions about how confident he is that people will be able to travel in May, Daniel said: "I think it's a cautious confidence at the moment.
"We know the country is on track with its vaccination programme and we know the importance of holidays to the UK confidence," he added.
"The fact that these European destinations are looking at their own means of opening up to British tourists is very encouraging, and there are so many destinations actually looking at this, not just Portugal and Cyprus."
Speaking about the possibility of Spain opening up to British tourists in May, Daniel said: "British tourists spent I think £18billion in Spain in 2019.
"The Spanish government has said that it is looking into the possibility of a green corridor between Spain and the UK this summer."
Daniel also noted that the EU is looking into creating a green pass, which will enable travel between European countries, but he explained that the board of nations is "taking their time on that".
The travel expert emphasised: "What we're seeing at the moment is all these destinations discussing their own way forward, and that's encouraging."
Bookings for foreign travel has rocketed over the past few weeks, with Britons already looking forward to a potential summer abroad.
Daniels said: "There has been a lot of interest in holidays this summer, but there's still a long way to go before the travel industry gets back on track."
Home Secretary Priti Patel has also warned against booking foreign travel too soon as restrictions may change again due to the unpredictability of the coronavirus.
However, with schools in England set to open tomorrow, there has been no delays yet to the UK's roadmap out of lockdown plans.
Source: Read Full Article