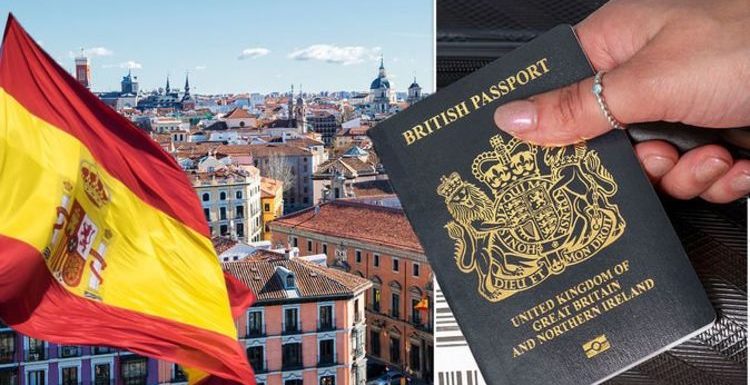 Brexit: Expert outlines potential travel changes for UK citizens
We use your sign-up to provide content in ways you've consented to and to improve our understanding of you. This may include adverts from us and 3rd parties based on our understanding. You can unsubscribe at any time. More info
British football fans are expected to descend on Spain's capital of Madrid in the coming weeks as Liverpool FC plays against Atlético de Madrid CF. But new post-Brexit passport rules mean that some Britons could be barred from entering the country if they don't check their travel documents.
Since Brexit came into force at the beginning of the year, a number of changes have impacted passports and visas.
When travelling to a Schengen country within the European Union (EU) UK passport holders must ensure they have enough time left on their travel document.
On Thursday, October 14, the Foreign, Commonwealth and Development Office (FCDO) shared information about these changes courtesy of the British Embassy in Madrid.
The advice states: "The rules for travelling to European countries changed on January 1, 2021.
"British nationals can travel to countries in the Schengen area for up to 90 days in any 180-day period without a visa.
"This applies if you travel as a tourist, to visit family or friends, to attend business meetings, cultural or sports events, or for short-term studies or training.
"Check your passport is valid for travel before you book your trip, and renew your passport if you do not have enough time left on it.
"Make sure your passport is valid for at least three months after the day you plan to leave Spain or any other Schengen country."
DON'T MISS
Ryanair passengers who received Covid refunds banned from flying [INSIGHT]
Covid Pass compulsory in Wales from today – 'I'll just avoid Wales' [COMMENT]
La Palma hit by biggest earthquake so far [UPDATE]
According to the Embassy, queuing at border control may be slightly different now that the UK is no longer part of the EU.
It states: "At Spanish border control, it is likely you will need to use separate lanes from EU, EEA and Swiss citizens when queueing.
"Your passport is usually stamped on entry and exit unless you can demonstrate that you are a resident of Spain.
"You may also need to show: a return or onward ticket, enough money for your stay, proof of accommodation for your stay, for example, a hotel booking confirmation, proof of address if visiting your own property (for example, a second home), or an invitation from your host or proof of their address if staying with a third party, friends or family."
Visitors to Spain, whether travelling for the football match or for any other leisure reason, are advised to "take care" of their passport at all times.
The Embassy warns that "obtaining a replacement is costly and time-consuming".
It advises: "Remember to keep a photocopy or scanned copy of your passport somewhere safe.
"If you lose your passport, you'll need to apply for an Emergency Travel Document online."
Along with important passport rules, Britons must also follow the Covid guidelines which remain in place for visitors in Spain.
Vaccinated travellers should carry evidence of having received both doses of an approved COVID-19 vaccine 14 days or more before travel. Spain is accepting the NHS app or vaccine letters as proof.
Unvaccinated travellers must show proof of a negative COVID-19 nucleic acid amplification test (for example a PCR, TMA, LAMP or NEAR test) taken within 72 hours prior to arrival in Spain.
All arrivals must also fill in a Spanish Health Control Form.
Source: Read Full Article