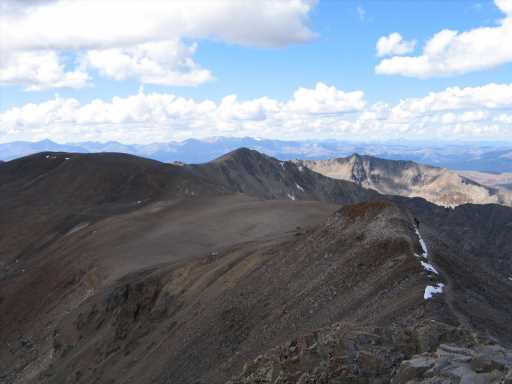 Public access to Mount Democrat, a fourteener near Fairplay that is part of the popular DeCaLiBron Loop, has been permanently secured following the sale of the trailhead, the trail and the summit to the nonprofit Conservation Fund by landowner John Reiber.
Reiber closed the DeCaLiBron, a popular trail that crosses Democrat and three other 14,000-foot peaks — Cameron, Lincoln and Bross — due to liability concerns in March. He reopened it in July to hikers willing to sign electronic waivers, but concerns over liability remain.
"There were a lot of moving parts, and I think the Conservation Fund did a great job getting me to a point where we agreed with all the pieces of the puzzle and put it together," Reiber told The Denver Post regarding the sale, which was first reported by the Washington Post. The sale closed on Wednesday.
A coalition of outdoor recreation groups has been lobbying the legislature to amend Colorado's recreational use statute in response to a 2019 court decision regarding the liability of private landowners who allow the public to recreate on their land. Reiber's closure in the spring came after the proposed amendment was killed in committee during the last legislative session. Reiber said the effort to fix the recreational use statute, which is being led by a group called the Fix CRUS Coalition, must continue.
"Fix CRUS still needs to move forward," Reiber said. "I still own properties at the top of Mount Lincoln and partial ownership of Bross. I have some full ownership claims (on Bross) that I allow people to hike on if they are on the DeCaLiBron Loop. They can't go to the (summit), but there's a trail that goes across other properties of mine, because I want folks to have the opportunity to do that. I just want to continue to figure out those things, but if we can get the CRUS changed, that's going to take away concern for more owners.
"This isn't just a fourteeners issue. It's a landowner issue to me, whether it's prairie land, or fishing ground or hiking ground or anything else that involves recreation. Hopefully we can get there," he added.
The Fix CRUS Coalition is comprised of 39 nonprofits, businesses, local governments and land trusts including the Colorado Mountain Club, Boulder Climbing Community, the Colorado Fourteeners Initiative and the Access Fund.
"It's fantastic to have Mount Democrat in public hands and to have access permanently secured to this incredibly important resource," said Anneliese Steel, co-founder of the coalition. "It doesn't change the need for recreational use statute reform. This was never about one mountain, it was about access across the state, and we still need to fix it because the DeCaLiBron Loop is still at risk, and Mount Lindsey. The access point for Mount Bross is still threatened."
The financial terms of the sale weren't disclosed, but included 300 acres encompassing the Kite Lake trailhead, the Mount Democrat trail and the peak itself, according to a news release on The Conservation Fund website. Eventually it will be conveyed to the U.S. Forest Service.
"Colorado fourteeners are a national treasure and we are thrilled to protect Mount Democrat," said Kelly Ingebritson, Colorado project manager of The Conservation Fund, in a statement. "Buying this majestic peak is a once-in-a-lifetime opportunity and a model for how conservation can solve America's recreational access issues and benefit local communities."
There are two reasons the top of Bross remains closed. Reiber co-owns the land around the summit with others who do not want to allow access. They, and he, have safety concerns because Bross is riddled with mine shafts which Reiber and his co-owners fear could collapse.
"There is a very big mine structure underneath Bross, and you never know when that may or may not decide to subside," Reiber said. "I've always been cautious. Of the mines that I own, I've been in most of them, however that one I have not. I don't really know how safe it is or isn't. I don't know if any of it has caved in or not. It's just not worth taking the chance."
Reiber said the waiver introduced this year to provide DeCaLiBron access seems to be working well, in part because it's a way of educating hikers about the risks inherent in climbing fourteeners. Reiber had nothing to gain financially by reopening the DeCaLiBron.
"It is an area I've had the opportunity to enjoy for my whole life, and I really want people to have the opportunity to enjoy it, to see what I've seen," Reiber said. "Hopefully they enjoy it and respect it just as much as I do. My goal has always been to find a way to make that happen. It's been costly; the price of insurance, even doing the liability waiver now, that costs money.
"Probably 90% of the people that go up there do respect it, and they do enjoy it, and they try like I do to take care of it. But you're always going to have a few, I guess, that choose to cut the trail, choose to pollute; They take their dog up there and don't clean up after it. But that is such a small percentage. Why, because of the actions of so few, wouldn't I find a way for the majority to enjoy it? That's been my goal."
Subscribe to our weekly newsletter, The Adventurist, to get outdoors news sent straight to your inbox.
Source: Read Full Article