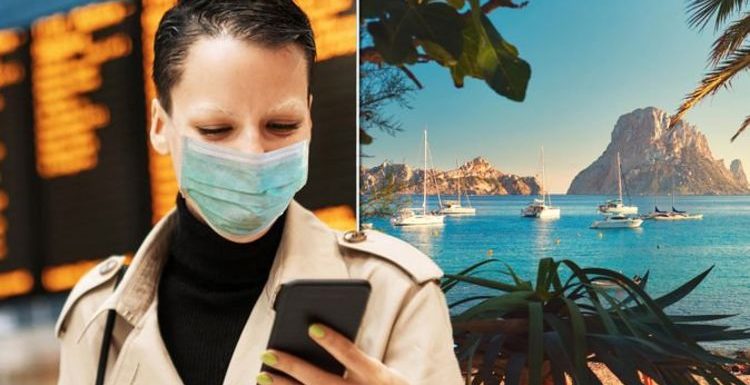 We use your sign-up to provide content in ways you've consented to and to improve our understanding of you. This may include adverts from us and 3rd parties based on our understanding. You can unsubscribe at any time. More info
It's been claimed Ibiza, Menorca and Majorca could be put back on the "amber list", meaning harsher controls for Britons who return from the country.
A source told The Sun: "It's all still up for discussion, but the figures aren't great which is why it was on the watch list in the first place."
It is thought a final decision could be made today.
Express readers responded to the news, many despairing at hopes for holidays.
Others suggested holidaying in the UK instead, to insulate against disappointments.
UK travel industry 'furious' at green list update says Calder
One wrote: "Sadly, stay at home and save your heartache, go away next year."
Another said: "No point booking a holiday abroad this year. Countries are going to be going between red, amber and green all the time."
Another wrote: "Anyone pre-booking a holiday abroad this year is basically an idiot – it is predictable that any country green now will be amber or red later."
One said: "Don't bother till 2022 at the earliest."
DON'T MISS
Green list update: 9 countries which could be added to green list [TRAVEL]
'We have no rights!': British expat fury over decision [SPAIN]
Horror brawl in bar in Ibiza sees Scottish dad 'slashed' in face [FOOTBALL]
"I have said it all along anybody booking a holiday abroad at this time need the services of a psychiatrist," one wrote. "Anybody unvaccinated is s******."
"Don't know why anyone is booking to go abroad this year, stupid Government changes its mind every five minutes," another wrote.
One reader observed: "This is getting beyond ridiculous. On and off the list like the Hokey Cokey."
Support for British holidays continued to rally, as many discussed their staycations for this year.
"I have a week booked in Bournemouth," one said. Spend money in the UK."
Another said, "It's lovely here in the Lake District, who needs Spain?"
"Nevermind, I've got Devon to look forward to in early September," one said.
"Don't worry you can always go do Brighton or Blackpool," another suggested.
The Balearic Islands (Formentera, Ibiza, Mallorca, Menorca) are on the green list currently. However, they are on the UK Government's "green watchlist".
Cases on the Balearic Islands now stand at 258 cases per 100,000 people.
Cases have tripled in Spain over the past fortnight, rising to 368 cases per 100,000 people.
The Government currently says people should not travel to amber list countries or territories.
If a person arrives in England from an amber list country, they will need to quarantine.
This needs to be done at home or in the place they are staying, for 10 days.
Source: Read Full Article