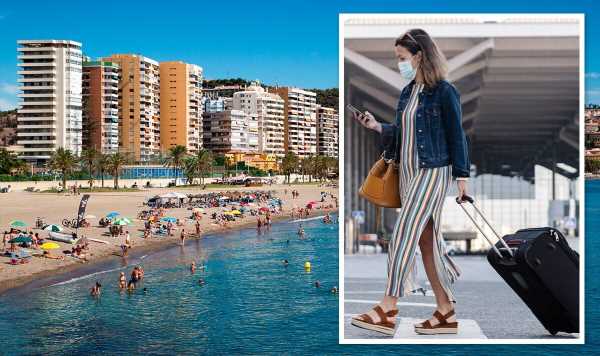 Holidays to Spain are back on for unvaccinated Britons, following the Spanish Government's decision to overhaul its coronavirus§12 entry rules. Spanish tourism minister, Reyes Maroto, has declared a "new phase of the pandemic" meaning Spain can relax its rules.
Maroto said: "This is excellent news, much awaited by the tourism sector. Spain is becoming one of the most desired destinations in the world."
However, entering Spain isn't quite as straightforward for unvaccinated visitors as it is for those who have had their jabs.
To help educate Britons hoping to visit Spain in the coming months, the Foreign, Commonwealth and Development Office (FCDO) has updated its travel advice page.
We use your sign-up to provide content in ways you've consented to and to improve our understanding of you. This may include adverts from us and 3rd parties based on our understanding. You can unsubscribe at any time. More info
The FCDO has warned: "There are no exemptions to Spain's entry requirements."
The FCDO explained that those who are not fully vaccinated can enter Spain using either a negative COVID-19 test or proof of having recovered from COVID-19 in the last six months.
Those using a negative COVID-19 test must ensure it is either a PCR taken within 72 hours prior to departure, or an antigen test taken within 24 hours prior to departure.
Those showing proof of recovery can use a medical certificate or recovery record to prove their COVID-19 status on entry to Spain.
DON'T MISS
Flight attendant explains 'how to ask' for free upgrade – 'I'd give' [COMMENT]
Spain: Private detectives set to pose as young people at parties [INSIGHT]
How to get a hotel room upgrade: Exactly what to say at reception [REVEALED]
The FCDO stated: "At least 11 days must have passed since your first positive COVID-19 nucleic acid amplification test – NAAT (PCR or similar) or rapid antigen test.
"The recovery record or certificate will be valid for 180 days from the date of the positive test."
Covid recovery documents must include your full name, the date you first tested positive for COVID-19, the type of test administered (e.g. COVID-19 nucleic acid amplification test – NAAT [PCR or similar] or rapid antigen test), the name of the country issuing the recovery record or certificate and documentary proof of the diagnostic test from which the recovery certificate is derived.
Although Spain has removed the need to complete a Travel Health Control Form for those who are fully vaccinated, those who have not received their vaccines must still fill out this form.
The form must be completed no more than 48 hours before arriving in Spain.
However, children under the age of 12 do not need to show proof of being fully vaccinated, a negative test or a prior infection before travelling to Spain.
They are also exempt from competing a Health Control Form.
Source: Read Full Article