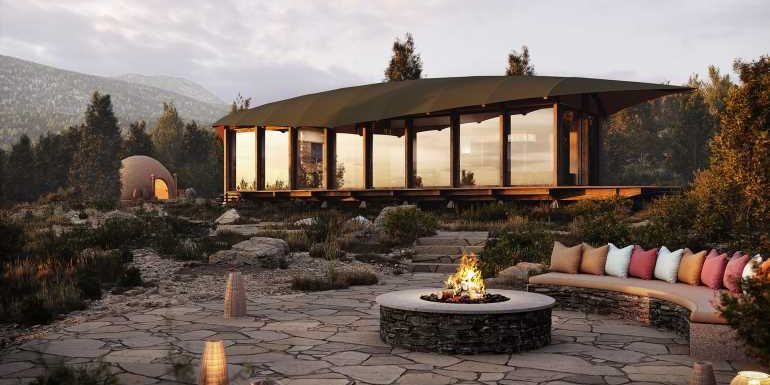 Spirit, a new wilderness retreat one mile outside Zion National Park in Utah, is slated to open its first phase in summer 2022. 
The 1,100-acre property will offer 40 accommodations designed by Nomadic Resorts. 
There will be 36 one- and two-bedroom suites with wraparound terraces that range from 800 to 1100 square feet, plus four Homestead Retreats, each with five bedrooms and more than 6,000 square feet of space. 
The retreat is owned and managed by Zion Spirit Group, a company focused on sustainable tourism founded by Elizabeth Rad and Kevin McLaws, owners of Zion Mountain Ranch. 
"Having grown up locally and witnessed firsthand how unbounded commercialization and land division can spoil the natural tapestry of a community, the concept of conservation and the importance of protecting the inherent integrity of our environment was introduced to me early on and has been the guiding vision for Spirit," McLaws said in a statement.  
Related: Telluride wellness retreat to open in May
Spirit will open in two phases, with the first phase expected to include seven Leaf Suites, biking and hiking trails, an employee-housing village and an aquaponic greenhouse that will serve as the resort's temporary dining and gathering space. 
The property is scheduled to open in its entirety in spring 2023.
Each suite includes a wraparound terrace; separate living and sleeping areas; bathrooms with oversized soaking tubs; a versatile space for meditation, in-room spa treatments, exercise or other activities; and an adjoining "bicycle base station" that includes two complimentary electric bikes and gear for use throughout the guest's stay.
The suites get their name from the leaf-shaped rooftops with solar panels and photovoltaic fabric technology designed to minimize obstructions to the natural vistas. 
When complete, amenities will include a library, observatory, lounge and natural swimming pool.
Additionally, Zion Spirit Group is developing 35 miles of bike trails, including sections on the retreat property, in collaboration with Zion National Park Forever Project, the National Park Service, Utah Office of Outdoor Recreation, area landowners and conservationists. 
Room rates are expected to begin at $3,000 per night.
Source: Read Full Article