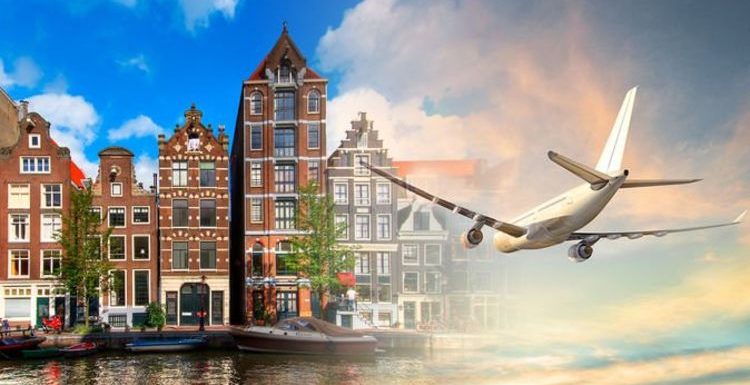 Travel expert says it's 'encouraging' to see destinations opening
When you subscribe we will use the information you provide to send you these newsletters.Sometimes they'll include recommendations for other related newsletters or services we offer.Our Privacy Notice explains more about how we use your data, and your rights.You can unsubscribe at any time.
Britons may be eager to get away on a holiday this year, but there is still some waiting ahead amid ongoing travel bans around the world. However, the Netherlands could be set to welcome back British tourists in the future.
The Dutch government announced plans to lift its ban on passenger flights and ferries from the UK, according to news agency ANP.
The ban was initially imposed in January amid concerns over coronavirus variant strains.
However, the Dutch cabinet has suggested the ban "no longer makes sense" since the variant strain is now dominant in the Netherlands, reports ANP.
Despite the news, the Foreign, Commonwealth and Development Office (FCDO) has not yet issued an update on its travel advice page.
Under the travel ban, only UK passport holders who were legal residents in the Netherlands were permitted to enter the country.
they would also have to provide a negative COVID-19 test result and complete a test declaration.
In addition, travellers from the UK must provide a negative rapid test taken no more than four hours prior to boarding.
A further 10 days of self-isolation is also mandatory.
DON'T MISS
Benidorm expat 'never considered' moving back to UK- resort's appeal [INTERVIEW]
Package holidays: TUI, BA, easyJet, Jet2 and Virgin latest updates [INSIGHT]
Cruise holidays: P&O Cruises, Carnival Cruises, Royal Caribbean update [UPDATE]
Though the news the nation is set to lift its UK travel ban may be a positive sign for things to come, currently leisure travel is off the cards for the UK.
Under the current national lockdown rules, leisure travel is still illegal.
It will not be until May 17 when Prime Minister Boris Johnson will consider allowing tourists to jet off on holiday.
According to his "roadmap" out of lockdown, the UK Government's decision making will be led by "data and not dates".
This will include the latest statistics on the vaccine roll-out and the impact it has had on Covid cases and deaths.
As of March 4, 2,249,002 people are reported to have received an NHS vaccination for COVID-19 in England according to official NHS statistics.
Of those vaccinated, 598,345 people have received a second dose, taking the total number of vaccinations given to 17,777,836.
Currently, the FCDO continues to advise against all but "essential" travel to the Netherlands.
Britons returning from the Netherlands to the UK will need to self-isolate.
The Dutch government continues to enforce Covid restrictions across the nation.
According to the FCDO, this includes the use of face masks in all public indoor spaces, a nighttime curfew and rules for the opening of retail outlets.
For those currently in the Netherlands, or who need to travel for essential reasons, the FCDO advises checking "the latest local information before travelling, as individual regions might have imposed extra measures."
Source: Read Full Article