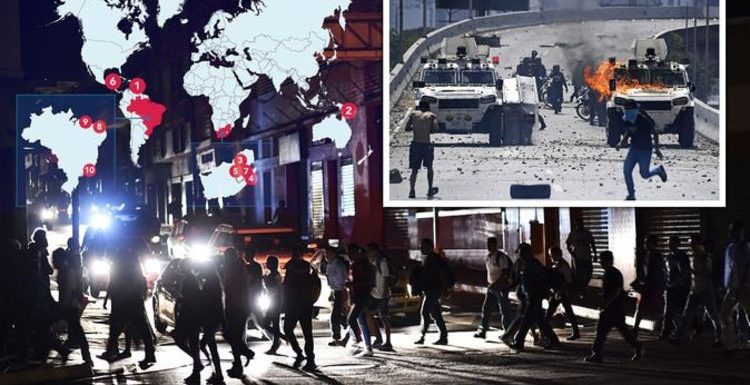 Fifteen most dangerous cities in the world
Holidays to dangerous destinations are swerved by most British tourists looking to adhere to travel advice. There are some cities in the world travellers might want to avoid more than others. The latest Crime Index from Numbeo, the world's largest cost of living database, has ranked the safety of global cities for 2021.
So where on the planet are the most dangerous cities?
The city with the highest crime rate for 2021 is Caracas in Venezuela.
The city was also ranked the least-safe last year.
Venezuela has one of the highest per-capita murder rates in the world.
We will use your email address only for sending you newsletters. Please see our Privacy Notice for details of your data protection rights.
Violent crime is prevalent and armed robberies take place in daylight – often in areas visited by tourists.
In second place was Post Moresby in Papua New Guinea, up two places from the 2020 index.
The Foreign Office says of the country: "There is a high level of serious and violent crime. Law and order is poor or very poor in many parts of the country.
"Pay close attention to your personal security, particularly after dark, and monitor the media for possible new security risks."
South Africa fared poorly in the index, with five cities in the country coming in the top 10 most dangerous cities.
In third place was Pretoria, followed by Durban and Johannesburg. Pietermaritzburg came in seventh position.
According to the Foreign Office: "There is a high level of crime including rape and murder in South Africa.
"Most violent crimes tend to occur in townships, isolated areas and away from the normal tourist destinations.
"However, armed robberies, including one leading to the death of a tourist, have taken place on Table Mountain in Cape Town in recent years."
Three Brazilian cities featured in the ten least safe cities.
Natal was in eighth palce, Fortaleza in ningth and Rio de Janeiro in 10th.
The Fortaleza murder rate is 66 homicides per 100,000 residents, according to Trip Savvy.
"Levels of crime including violent crime are high, particularly in major cities," explained the Foreign Office.
"You are likely to see a heavy police presence on the streets, particularly in Rio de Janeiro. Bank card fraud including credit card cloning is common."
In sixth place on the index was San Pedro Sula in Honduras.
The city has one of the highest murder rates in the world, with some dubbing it the 'murder capital' of the world.
There are an estimated 7,000-10,000 street gang members among the population of eight million, according to The Guardian.
Top 10 most dangerous cities
1. Caracas, Venezuela
2. Port Moresby, Papua New Guinea
3. Pretoria, South Africa
4. Durban, South Africa
5. Johannesburg, South Africa
6. San Pedro Sula, Honduras
7. Pietermaritzburg, South Africa
8. Natal, Brazil
9. Fortaleza, Brazil
10. Rio de Janeiro, Brazil
Source: Read Full Article