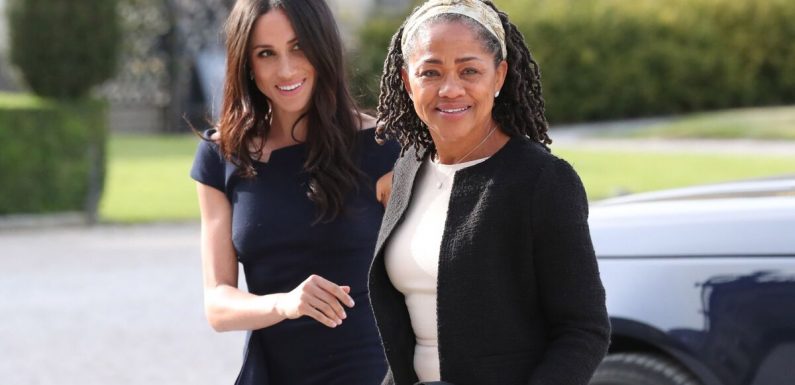 We use your sign-up to provide content in ways you've consented to and to improve our understanding of you. This may include adverts from us and 3rd parties based on our understanding. You can unsubscribe at any time. More info
Prince Harry shared details of how his wife, Meghan Markle, travelled with her mother Doria Ragland to Goa for a wellness retreat, in his memoir, Spare. The Duchess of Sussex has always been open about the fact that she learned her love of yoga from her mother, and it's a passion the mother-daughter duo still share in adulthood.
Doria worked as a yoga teacher for many years, and in 2016, Meghan told Best Health Magazine: "Yoga is my thing. My mom is a yoga instructor and I started doing mommy-and-me yoga with her when I was seven."
The Duchess is obviously thankful to her mother for introducing her to the discipline because she treated her mother to a yoga retreat for her 60th birthday in 2016.
In Prince Harry's memoir, Spare, the Duke of Sussex shared secret information on his wife's trip, writing: "Meg took Doria on a yoga retreat in Goa—a belated celebration of Doria's sixtieth birthday."
Harry didn't share any further details about the break, but it's likely the Goan retreat saw Meghan and Doria engage in several yoga sessions daily, along with sound baths and meditations, all designed to help attendees feel a sense of zen while enjoying the beautiful surroundings.
Prince Harry further emphasised Meghan's dedication to yoga elsewhere in his memoir, sharing that on a romantic trip to Africa early in their romance, his future wife packed very lightly.
"To my shock, and delight, there was nothing in [her] suitcase but bare essentials. Shorts, ripped jeans and snacks. And a yoga mat," he wrote.
Meghan isn't the only royal to enjoy travelling for yoga retreats in India.
Queen Camilla is known to frequent Soukya, an holistic health and wellness centre, where a seven-day stay costs from £2,800, with yoga on the daily itinerary.
Queen Camilla, 75, flew to India for a 10-day holistic therapy holiday in October last year.
According to the Times of India, Camilla and a few friends stayed in Soukya, a holistic health and wellness centre near Whitefield, in Bengaluru.
According to their website, Soukya "offers a wide range of Health Programmes that help cleanse, de-stress, soothe and revitalise the mind, body and spirit.
"Every guest goes through a health evaluation by doctors, qualified and experienced in their respective system of medicine. Based on a joint review of the Ayurvedic tri-dosha (vata, pitta and kapha) and blood reports, the treatment protocol is designed to address the individual needs of the person."
The website adds: "The programme is monitored and reviewed daily, to enable any change in the treatment protocol, if required, enabling a highly individualised treatment programme.
"We provide authentic Ayurvedic, Panchakarma, Yoga and Naturopathic treatments and Complementary Therapies that are prescribed, monitored and reviewed by our doctors and delivered with the help of skilled therapists."
This was not the first time Queen Camilla visited Soukya. She made her first visit to the centre back in 2010, when she was still the Duchess of Cornwall.
The publication also reported that the royal has made eight visits to the centre so far and even convinced her husband King Charles to celebrate his 71st birthday there back in 2019.
At the time, the couple went in for a six-day "rejuvenative treatment", where naturopathy, Ayurvedic, and yoga practices were employed. The whole centre was reportedly reserved for the royal couple.
According to the reports, this was a private visit for the Queen Consort, and it was Camilla's first overseas tour since becoming the Queen Consort.
She travelled on a British Airways flight for the trip and then went by road for nearly 40 km from Kempegowda International Airport to Soukya.
Queen Camilla was escorted by members of Royalty and Specialist Protection, an elite force of Scotland Yard.
Source: Read Full Article