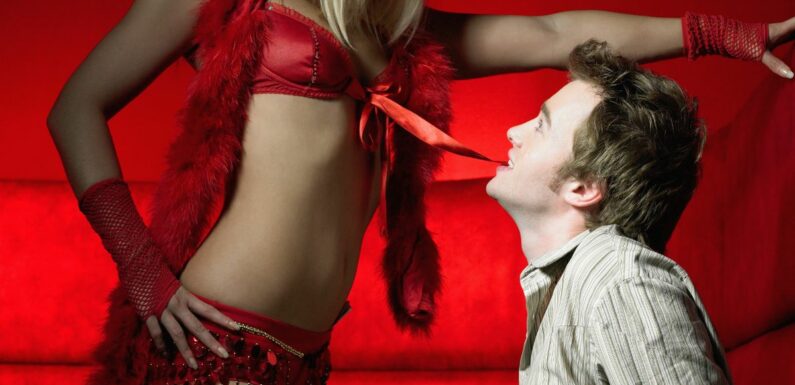 A gutsy bloke pretended he was going to tie the knot in order to organise himself a one-man stag-do around the strip clubs of party city Prague. Stag dos abroad are becoming more popular in recent years – with British men so rowdy that Amsterdam has asked them to "stay away".
They often consist of the groom being taken on a wild weekend of strippers, booze and clubbing with his best mates, old school pals, cousins and sometimes even his dad for an awkward addition to the group. While plenty of men prefer to play golf or enjoy go-karting during their pre-wedding blow out some aim to make the day as sexual as possible.
READ MORE: 'I organise British stag dos – one groom's ex-wife was booked as the stripper'
This was the case for one lad who arrived at stag and hen do organising company Last Night of Freedom, with an unconventional request. The stag wanted to go on a cheeky bender despite having no bride waiting at home and no mates joining him for the ride.
"One man asked if they could do every strip activity in Prague – the only thing was they were going alone," Matt Mavir, managing director of the company, told the Mirror.
"He was basically planning a one-man solo strip club tour of Prague and wanted us to book it, which was odd in itself, but we drew a line when he asked if we could also recommend any massage parlours offering happy endings."
Well, we hope he had fun! But, if you're looking for a rowdy lads holiday you can actually share with your friends there are plenty of boozy tourism hotspots to try out.
TikTok stars, Grumet and Dazza head to Benidorm several times a year whenever they can get cheap flights. They do this because of the incredibly low prices.
You can bag a pint in Benidorm for as low as 80p while a Full English costs just £2.50. Plus, Grumet claims that you can drink "for nowt" all night just by making the most of the free shots down the strip.
He told Daily Star: "I can do a full week – accommodation, flights, food and drink for under £250. I go with the family in the summer, but in the winter it's cheap to get over there so all the lads just go. You can get return flights for about £30."
Sunny Beach DJ Jamie North claims Brits flock to the area each year for 80p pints, £9 hotel rooms, Viagra jelly and a week of heavy clubbing.In fact, clubs on the strip open at 7am – and there's a theme park on the main road.
Plus, he noted: "There's plenty of places to find cheap alcohol. It's sold on every street corner, every bar offers a free shot and sells cheap beer. Lots of strange things happen such as people losing their shoes and personal belongings on the beach.
"The walk of shame is also an eye catcher in Sunny Beach too."
One British tourists decided to give Sunny Beach a try last summer – and he had some major goals. Cheap holiday fan Mason, 21, from Essex headed to Sunny Beach, Bulgaria, which he said felt like 'Ibiza' for 10 day bargain holiday in Europe full of clubs, alcohol and women.
Mason said: "I'm 21 obviously still young, young buck, but I've got a lot of goals. Sh*g a MILF and then sh*g a load of foreign birds because I love foreign birds. And then a few Scouse and Geordie birds, because I love the accent.I want to sh*g every nationality before I die – well, at least Europe anyway."
Unfortunately, for Mason, his plan didn't quite come off. He ended up spending the night with a Bulgarian woman who put a downer on his sexy holiday.
READ NEXT:
Brits reveal biggest regrets on boozy Ayia Napa holidays from orgies to dodgy tattoos

Livid Amsterdam sex workers to protest over Brits being told to 'stay away' from city

Benidorm tourists slam nudist beaches for 'balls and bare bums' – but locals hit back

Europe's best party spots with epic pool parties, cheap booze and flights from £22
Source: Read Full Article