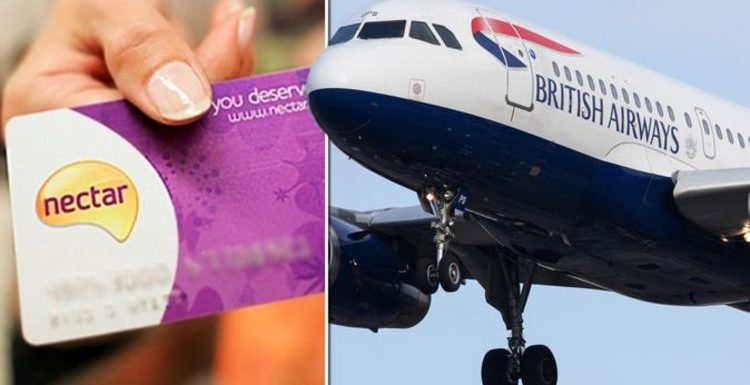 We will use your email address only for sending you newsletters. Please see our Privacy Notice for details of your data protection rights.
It means Nectar Card points can be converted into Avios points, which can be redeemed through the British Airways Executive Club on flights, upgrades and hotel stays. It means Sainsbury's customers can save towards their next holiday with a food shop.
In the new scheme, 400 Nectar points collected can be converted into 250 Avios.
It works the other way too, the supermarket and airline say.
If customers want more Nectar points, then they can convert 250 Avios into 400 Nectar points.
With 4,000 Avios you can book a members a flight to Amsterdam.
British Airways share their new protective and safety measures
Customers will receive a one-off bonus 500 Avios when they convert 1,600 Nectar points.
Customers will also be rewarded with twice the Nectar points at Sainsbury's until 19 April 2021.
Nectar already works with more than 300 existing Nectar partners including, of course, Sainsbury's, Argos, eBay, Café Nero and Vue.
Avios don't expire as long as members collect, use or purchase at least one Avios every 36 months.
DON'T MISS
British Airways data breach victims could get £2,000 each [CLAIM]
Latest updates for BA, TUI, easyJet, Ryanair and Jet2 [FLIGHTS]
'Safest' airlines for 2021 crowned [INSIGHT]
If members change their mind about a flight, they won't lose their Avios as changes or cancellations can be made up to 24 hours before a flight for a small fee.
Sainsbury's has updated its face mask rules recently in the wake of coronavirus updates.
The supermarket will place trained security at its store entrances to question any shoppers not wearing masks.
Carolina Martinoli, British Airways' Director of Brand and Customer Experience, said: "Today's announcement will give our loyal Executive Club Members even more ways to collect and spend Avios and we are excited about the opportunities this new partnership will bring.
"Everyday spending can quickly become a flight, upgrade or hotel stay giving members of Nectar and the Executive Club something to look forward to after a difficult last year."
Adam Daniels, CEO of Avios, said: "Like Nectar, we pride ourselves on working with a wide range of partners for the benefit of our members, so working together was a natural step.
"Nectar will join hundreds of partners who all offer a whole host of exciting and varied ways to collect and spend Avios."
Rob Burgess, Editor of the UK's biggest frequent flyer website, www.headforpoints.com said: "This is an extremely positive change for Avios collectors. Not only can they continue to collect Avios when they do their supermarket shopping, they can also, should they wish, use the generous conversion rate to spend their Avios at Sainsbury's and with other Nectar partners, including Café Nero, Esso, eBay and Argos.
Given the lack of opportunity to fly right now, those sitting on large pots of Avios now find they have an abundance of uses for their points. This will be particularly attractive to anyone who is Avios rich but currently cash poor.
With a straightforward conversion rate of 0.8p of Nectar points per 1 Avios point, this new arrangement knocks most other Avios redemptions out of the park. In fact, we are concerned that it may be TOO generous, with British Airways still offering only 0.5p per Avios when you use your points to part-pay for a BA flight, paid seating, car hire or hotels.
Head for Points has had a look at some conversion and redemption opportunities. For example, you can convert 219 Avios into 350 Nectar points which will get you any hot or iced drink, pf any size, at Café Nero. With a Caramel Latte coming in at £3.30, you'll be getting a whopping 1.51p return per Avios!
There are some odd arbitrage opportunities too. For example, the Nectar American Express credit card earns 2 Nectar points per £1, which now convert into 1.25 Avios. This is better than the free British Airways American Express credit card, which only earns 1 Avios point per £1.
The weak spot, ironically, is earning Avios in Sainsbury's itself. The previous Tesco partnership earned 2.4 Avios per £1 if you converted your Clubcard points. The new Sainsbury's deal earns just 0.625 Avios per £1 if you convert your Nectar points, although Sainsbury's is more generous than Tesco with bonus point offers.
All in all, we see this as good news for both Avios and Nectar collectors. Both groups now have additional ways to earn and spend their points."
A recent British Airways data breach means customers could get £2,000 each.
British Airways suffered a breach of its security systems back in 2018.
Over 420,000 customers and staff had their personal data leaked
Law firm PGMBM, the lead solicitors in the group litigation case against BA on behalf of victims, unveiled the figures this morning.
They have dubbed it "the largest group-action personal data claim in UK history."
Source: Read Full Article