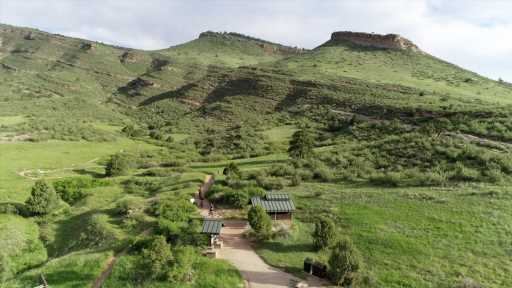 You have to zoom in pretty close on a map of Colorado before Lyons even shows up. The town, with a population that hovers around 2,000 people, isn't exactly a tourist hot spot or an epicenter of, well, anything. But we know better.
We know that Lyons is worthy of a stop on our way to Rocky Mountain National Park, or as a destination on its own. We know that 97% of the 85 businesses are locally owned (the only ones that aren't are two gas stations), making it one of the most unique towns in which to browse, eat and drink. We know that its setting at the edge of the Rockies, with its mix of forests, valleys and sandstone cliffs, is absolutely stunning. And we know that come summertime the music is roaring, with major festivals drawing bluegrass-loving crowds.
Here are five reasons to spend time in Lyons this summer:
The food is some of the best in the state
It may seem strange that one of the most delicious fine dining restaurants in Colorado resides in such a small town, but hey, we don't make the rules. Marigold is a beautiful, unexpected restaurant serving beautiful, unexpected food, and it alone is worth the drive.
The menu is a constantly changing mix of European/new American dishes that is pretty much whatever chef/owner Theo Adley fancies that day. At this point it's almost unnecessary to say that a restaurant plucks its produce and meat from local farms and ranches, and it's the flavor combinations and techniques that make Marigold, which opened last summer, so notable.
Take the staple Caesar salad, a deceptively simple title for what is actually a hand-held take on the classic. We get two chunks of little gem lettuce topped with the familiar dressing, but large bonito flakes stand in for anchovies and crunchy puffed rice for croutons. The three pastas are handmade and extruded each day. (If the bucatini with prawns, lobster stock, white wine and chile crisp is on the menu, order it.) Of the proteins, the half chicken under a brick with yogurt and herb-packed salsa verde is always available, along with usually something else from the land and something from the sea.
And the drinks aren't so bad either
Oskar Blues put Lyons on the national beer map in 2002 when it decided to pour its craft brews into aluminum cans instead of glass bottles. Popping the top of a crushable red-white-and-blue can is almost a Colorado rite of passage, and the original brewpub still stands on Main Street in the center of town. But there's more to sip in Lyons than Dale's Pale Ale.
When you likely first enter Lyons driving west on Colorado 36, you'll see an Old West-style distillery advertising "Whisky From Colorful Colorado." But there is so much more than whiskey at Spirit Hound Distillers. This ace distillery also makes small batch gin, rum, vodka, moonshine, sambuca and coffee- and chocolate-flavored liqueurs. You'll want to take home a bottle of course (or five; we know life ain't easy), but you should also stick around for a cocktail.
The lengthy menu features tasty blends made with Spirit Hounds booze, like the Call the Sheriff with gin, house amaro, orange liqueur, a tart cherry infusion and orange peel bitters. Or the Robert Burns, whose mix of cask-strength whiskey, vermouth, cacao bitters and walnut extract is so strong that you're limited to just one. These cocktails are reason enough to book an overnight stay at a nearby Airbnb.
The concerts and festivals in Lyons are legendary
You don't have to be a bluegrass lover — although it helps — to enjoy the town's music festivals. July's RockyGrass sells out quickly, as does August's Rocky Mountain Folks Festival. The lineups are always stellar, but the experience of camping out on Planet Bluegrass's on-site campground along North St. Vrain Creek with thousands of fellow music lovers is hard to beat. For bluegrass fans, attending a Lyons fest is pretty much their twangy version of a pilgrimage to Mecca, and the energy is fun. (And, as a warning, nonstop.)
If not showering for three days isn't your bag, Lyons' Sandstone Park hosts a weekly summer concert series on Wednesday nights. The acts vary in style (i.e., it's not all banjos and mandolins), but it's back to bluegrass for Oskar Blues' year-round Tuesday night jam sessions. Other spots around town, like MainStage Brewing Co., also regularly host performers.
There's fun on the water for anglers (and would-be anglers)
Especially in summer, the North, Middle and South St. Vrain creeks are prime fly-fishing spots, teeming with more cutthroat, brook, brown and rainbow trout than you can shake a pole at. (Unless you don't catch anything, in which case there are clearly no trout in these creeks.)
While you can fish in Lyons year-round, spring runoff can be pretty high, and the weather is just more pleasant in summer. All three creeks get their start near Rocky Mountain National Park and the Indian Peaks Wilderness and wind their way down to Lyons. You can access the South St. Vrain (and where it joins the North) from Lyons' Bohn Park right in town.
If you'd rather float the creek than put in the pesky work of fishing it, tubing is popular. You can rent single or double tubes, life jackets, river shoes and dry bags at LaVern Johnson Park. The tubing season starts in May, but the water moves pretty quickly. Head out in late June through early August for a calmer ride.
And finally, Lyons isn't bad to look at
Whether by foot or wheels, the outdoor offerings are pretty darn stunning. Miles of hiking trails will have you trekking through pine forests, 1880s homesteads, grasslands, unique rock formations, impressive valleys and even an elk migration corridor. Check out the paths of Heil Valley Ranch, Lion Gulch Trail and Hall Ranch for spectacular scenery.
On two wheels, you can road bike the Peak-to-Peak Scenic Byway or take on the 40-mile Rocky Mountain Ascent into Estes Park and up Trail Ridge Road. Mountain bikers can hit many of the same trailheads as hikers, with the Heil Valley Ranch/Hall Ranch 33-mile, 3,800-foot-climb Heil to Picture to Hall and Back combo being especially challenging — and rewarding.
Or you can skip all the work and enjoy the views from pretty much anywhere in Lyons, maybe relaxing after a great meal or recovering from all the hard work of thinking about hiking and biking. However you enjoy Lyons, it's a town worth knowing.
Subscribe to our weekly newsletter, In The Know, to get entertainment news sent straight to your inbox.
Source: Read Full Article