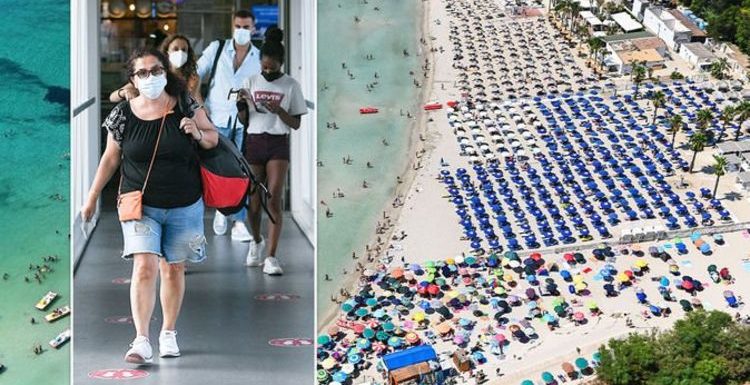 Travel: Calder predicts 'more positive than negative' changes
We use your sign-up to provide content in ways you've consented to and to improve our understanding of you. This may include adverts from us and 3rd parties based on our understanding. You can unsubscribe at any time. More info
Italy is typically a popular holiday haunt for British tourists, attracting approximately 6.4 million UK arrivals in pre-Covid 2019. However, COVID-19 restrictions have made it more difficult for holiday hungry Britons to visit Italy in recent months.
The nation has since reviewed and updated its entry restrictions, with quarantine now scrapped for some UK arrivals.
In line with this, the Foreign, Commonwealth and Development Office (FCDO) has updated its travel advice pages.
What are the latest updates to Italy's entry requirements for UK tourists?
In its latest update, the FCDO explains Italy has changed its "entry requirements", now scrapping the previously mandatory five-day quarantine for those arriving from the UK.
As of August 31, travellers from the UK "can enter Italy without being required to quarantine if they have proof of vaccination and a negative test taken within 48 hours before entering Italy".
Prior to this update, UK arrivals were expected to self-isolate for five days upon arrival regardless of their vaccination or testing status.
The FCDO adds: "If you wish to fly, you must present the airline with a negative COVID-19 rapid antigenic or molecular swab test taken no more than 48 hours before travel."
For those who have been fully vaccinated, Italy will accept the NHS Covid pass for travel.
Certificates can be shown in digital or paper format.
However, the FCDO warns Britons that the NHS appointment card from vaccination centres "is not designed to be used as proof of vaccination".
DON'T MISS
Heathrow airport chaos as many passengers queue for 'five hours' [INSIDER]
Explorer praises Britain after travelling across 2700km [COMMENT]
Covid-positive Briton forced to quarantine in Tenerife [INSIGHT]
What other rules are in place for Britons hoping to visit Italy?
UK visitors arriving in Italy must also complete an online digital form before travelling.
The FCDO explains: "This will generate a QR code, which should be presented to your travel provider and Border Police if requested.
"A paper form can be completed if you do not have an electronic device."
Travellers arriving in Italy who do not have evidence of a negative COVID-19 test or having completed their full vaccination schedule will be required to self-isolate.
The FCDO adds: "Everyone arriving in Italy must also call the COVID-19 helpline for the region you are travelling within 48 hours of arrival, to inform them of your visit."
What other Covid restrictions are in place across Italy?
In order to reduce the spread of COVID-19 in Italy, the nation continues to enforce rules and restrictions.
These include the mandatory use of masks in all outdoor spaces where social distancing is not possible, and in all indoor public spaces.
Children under the age of six are exempt from wearing a face covering.
Social distancing of one metre must be observed, and gatherings should be "avoided".
Since August 6, a "green certificate" is required to attend many public spaces including, but not limited to, indoor seating in bars and restaurants, exhibitions, gyms, swimming pools, spas, fairs and large gatherings.
As of September 1, the "green certificate" must also be used to access certain flights, InterCity and high-speed trains, boats, ferries and coaches linking two or more regions.
The FCDO advises: "A UK vaccination record will be accepted to access transport, leisure and hospitality facilities".
The travel authority also warns Britons these rules could change "at short notice".
It explains: "You are strongly advised to consult the websites for the regions in which you are travelling for the latest information. You should also pay close attention to local signage."
What is the current coronavirus situation in Italy?
According to the European Centre for Disease Control and Prevention (ECDC), Italy has recorded 147.88 confirmed cases of coronavirus per 100,000 inhabitants in the 14 days since August 31.
By comparison, in the UK there has been 353.3 confirmed cases per 100,000 of the population in the previous seven days from August 30, according to Gov.UK data.
Reuters reports Italy has administered "at least 77,532,362 doses of COVID vaccines so far".
It adds: "Assuming every person needs two doses, that's enough to have vaccinated about 64.3 percent of the country's population.
Source: Read Full Article