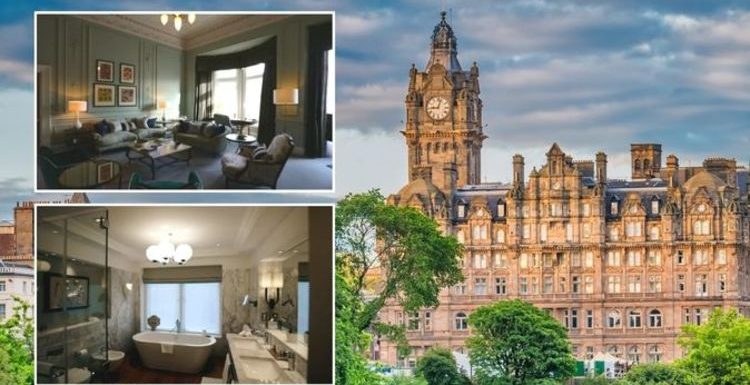 Inside The Balmoral: Woman prepares £6,000 a night room
When you subscribe we will use the information you provide to send you these newsletters. Sometimes they'll include recommendations for other related newsletters or services we offer. Our Privacy Notice explains more about how we use your data, and your rights. You can unsubscribe at any time.
The Balmoral Hotel opened in 1902 and has since seen royals and celebrities pass through its doors. On tonight's episode, viewers were given a sneak peak into one of the most luxurious suites within the hotel, the Glamis Suite.
Named after Scotland's most beautiful castle and the childhood home of The Queen Mother, the suite is newly refurbished.
The description online reads: "Large windows cast natural light upon the spacious salon, with its magnificent velvet sofas, tasteful antiques and original fireplace, and the sophisticated dining room, with its Scottish baronial furniture and antique chandelier, provides an elegant area for entertaining.
"Historic period features including ornate cornicing are complemented by exquisite drapes and wallpapers, whilst hand-picked collections of books and records make this spacious haven homely.
"In the Arabascato marble bathroom, discover a free-standing bath and roomy walk-in shower stocked with exquisite Asprey toiletries, while in the bedroom, a king-sized bed with full-height, half-tester drapes promises a regal night's sleep."
The episode of the show showed Olga Polizzi, who is the renowned interior designer, hotelier and director of design for Rocco Forte Hotels, visit the suite for an inspection.
She said: "I continually come into hotels and you know, you have a painting or you have a mirror and the chest of drawers slightly off centre, it really annoys me."
The Glamis Suite will set visitors back a whopping £6,000 a night.
It consists of three large bedrooms, two bathrooms, a living room as well as a dining room.
DON'T MISS:
Portugal tourist refuses to shift blame on Green List change [COMMENT]
Jet2 cancels all international flights and holidays until July 1 [EXPLAINER]
Green list update: Which holiday spots are on reduced green list? [INSIGHT]
Butler service is also available for guests in the luxurious suite.
The large living area featured two sofas, three armchairs as well as a desk area overlooking the view.
The traditional panelling added a cosy feel to the room and the multiple lamps added warmth.
In the bathroom, there were two sinks as well as a large free-standing bath and luxury toiletries for guests to sample.
The Glamis Suite was fully renovated last year.
Speaking on the show, Olga explained: "It's ended up quite a nice suite, do people like it?"
Head of Housekeeping Vicky replied: "They do, we've had some guests stay here over months and they've been really at home."
Taking to Twitter to share their thoughts on the exquisite room, viewers expressed how they thought about the price.
One person said: "Yes it looks luxurious, but you have to be some kind of rich to spend £6,000 a night to stay there."
Another wrote: "What I would do to spend one night in that luxurious suite, the bed looks so inviting!"
"Crazy money, the hotel worker even said people had stayed in that room for months at a time," a third tweeted.
One viewer said: "That's crazy money even for that amount of luxury!"
Source: Read Full Article