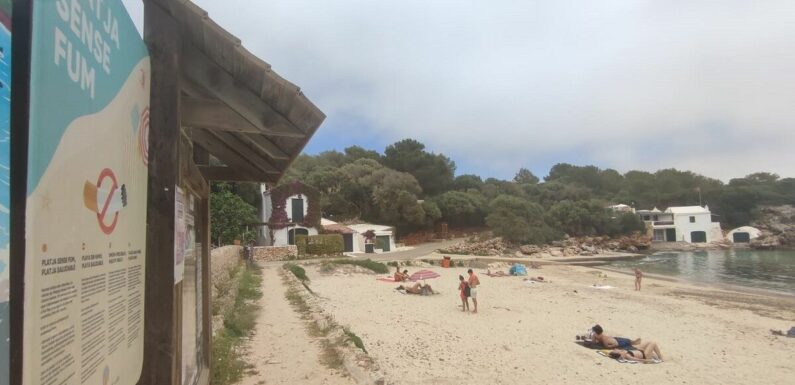 Majorca, Ibiza and Menorca have banned smoking on 28 beaches as the new tourist season swings into action. Holidaymakers are being warned about the increase in "smoke-free zones" as part of a major plan by the Balearic Islands to improve people's health and slash the huge problem of cigarette butts being left on the sand.
This summer, there will be 28 smoke-free beaches, after four beaches in Mallorca and another five in Ibiza joined the 'Smoke-free beaches, healthy beaches 2023' programme, promoted by the Directorate General for Public Health and Participation.
Some of the most popular beaches of the holiday islands have chosen to go smoke-free, including several in the capital of Palma and in the Calvia district.
The Ministry of Health and Consumption confirmed today that tourists and local people will be made aware of the campaign with the aim of increasing smoke-free environments, especially in outdoor spaces.
"The objective of the campaign is to create a network of healthy beaches, understanding the Balearic coast as a playful space for the enjoyment of outdoor activities that enriches the health of the people who come, promoting smoke-free spaces," said a spokesman. "Today, tobacco use is one of the leading causes of preventable disease and death worldwide. Exposure to smoke from tobacco products has been shown to cause health problems similar to those caused by tobacco use."
Cigarette butts are the residues most commonly found among marine litter.
The campaign – which began in 2019 with just two beaches- has started this year with nine more beaches and has thus reached a total of 28. These new sandy areas are on the island of Ibiza, which joined last summer, and in Mallorca.
Beaches taking part will be able to put up a four-metre banner, as well as have QR codes on information stickers, which will link to the campaign leaflets.
From the tourist point of view, smoke-free beaches are increasingly valued for family tourism.
It is up to the individual municipalities to decide if they want to take part. Similar schemes are in operation or are being planned for other tourist hotspots in Spain.
Source: Read Full Article