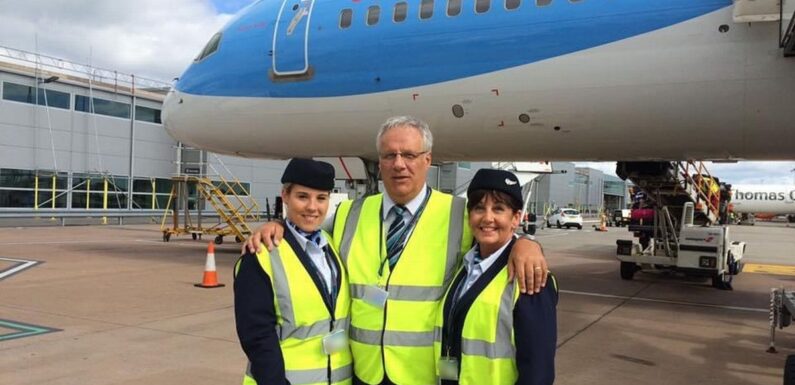 A flight attendant has revealed that she's the third cabin crew worker in her family – following both her mum and dad. The TUI crew member wants to encourage more people to join the airline industry and says her parents were her inspiration.
Rebecca Banks, 30, based in Bristol, started flying aged just 22 and has been working on TUI flights ever since. She followed in the footsteps of her mum, Kay Williamson, a flight attendant who started with Britannia in 1987. But, not only that Rebecca's dad, Ian Williamson, was a cabin crew member who started with Orion in 1980. He and Kay had a romance at 35,000ft while working out of Manchester Airport in 1990.
READ MORE: Flight attendant begs people to keep shoes on in flights – not because of smell
Check out our travel section for more holidays, travel news, hacks, flight secrets and more…
Together they inspired Rebecca to join the TUI fleet and have even all worked together on flights. She noted: "Without a doubt, my Mum and Dad were my inspiration to become a flight attendant. I am always so proud when anyone asks me what my parents did for a living and even now, I feel so lucky to be able to say that I shared the start of my career with my parents.
"When we went on holiday as passengers, seeing crew going out of their way to make a customer's experience with TUI extra special, I knew from then on that that was to be my goal in life."
Not only did Rebecca achieve her goal, she also managed to fly with both of her parents at one point or another. She noted: "I was very lucky to have flown with both of my parents, Dad and I operated a short haul flight on the 737 together in 2016. Mum and I flew together a number of times. One being a Bristol to Punta Cana and it was definitely one of the most memorable trips of my career."
Now, for many of us spending a shift with a parent wouldn't be our idea of a dream come true. But, Rebecca claims she had a laugh working with her mum and dad – and it's even more special since her father sadly passed away at home.
She explained: "My Dad was very professional at work, he would always make sure I called him 'Ian' along with the rest of the crew, sometimes I would forget and would call him 'Dad' and he would give me a look as if to say 'Very funny!' and we would laugh about it together.
"Some very special memories include having photos taken of us three together on the 757 as these were taken shortly before Dad suddenly passed away in November 2016. I will never forget sitting on a beach with Mum in Varadero before our inbound flight a few years later, talking about Dad and how he would have loved to have operated the 787 out of Bristol."
She added: "My Dad was the hardest working and most caring person I have ever known. He absolutely loved his flying career and everyone in it. Even on his days off, I remember him hard at work preparing for delivering his training sessions and always had his phone on hand for anyone who needed his help."
In fact, Rebecca noted that a large number of people who attended Ian's funeral wore their TUI uniform in honour of his long career. Rebecca continues to work for TUI and claims she absolutely loves her job.
She noted: "I love that every day is completely different and you get the chance to meet so many different people as well as travel to so many different places. After having so many wonderful memories of going on holiday myself whilst growing up, I am very passionate about giving the same experience to our passengers now and of course to my young family too.
"I can only describe it as empowering. From waking up and getting ready for the day, meeting your fellow crew members in the crew room and spending the whole working day (or night!) with them, you come home feeling accomplished knowing that you've done your very best.
"This also includes keeping everyone safe, making passengers feel valued and enabling the smooth running of the flights. Some days can be very challenging, but you do learn to use your own initiative and deal with any issues that arise."
Her favourite days to work are those when she's on the route to Florida, in the USA. Rebecca said: "My most favourite destination to fly to has got to be Florida! Everyone is always so excited to be travelling to this very special holiday destination and are ready to make some incredible memories with their loved ones."
Rebecca also thinks being a flight attendant is a great career choice. She wants to encourage more people to join the industry. The flight attendant said: "I would 100% recommend working as cabin crew to anyone considering it. It truly is one of the best jobs in the world.
"You get the chance to meet some amazing people and make close friendships with people on a day-to-day basis. Being able to give our customers a memorable start/end to their holiday feels like such a privilege every day. To inspire the next generation by giving them little things like a simple 'Flight Deck' visit may seem little to you, but it will mean the world to them for years to come.
"The initial training has to be one of the most fantastic and memorable experiences, you progress through the training journey with people that will turn out to be lifelong friends."
Source: Read Full Article