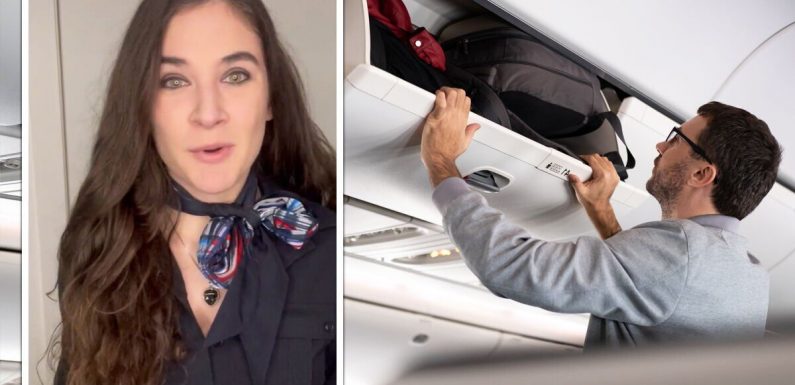 We use your sign-up to provide content in ways you've consented to and to improve our understanding of you. This may include adverts from us and 3rd parties based on our understanding. You can unsubscribe at any time. More info
A flight attendant who goes by Cierra Mist has detailed a number of ways travellers can "ruin a flight attendant's day". Getting on the flight crew's good side can result in better service, so flyers may want to pay attention. Cierra claimed a number of things travellers already do at the airport and on their flights during travel are enough to ruin a flight attendant's day.
She detailed the number one annoying thing passengers can do is "ask (crew) to help you lift your bags."
The cabin crew professional went on: "First of all, none of the crew is getting paid while you are boarding.
"We actually don't even start getting paid until the airplane door shuts and the break gets lifted.
"On top of that if you are having trouble lifting it you can easily get your bag checked at the gate, for free."
Arguing with the crew about wearing a mask when it is a requirement is another sure-fire way to annoy cabin crew, Cierra said.
@cierra_mistt

how to ruin a flight attendant's day (p. 1)

♬ original sound – Knock-Off Sprite
She said: "If anyone wants to act like a two-year-old about wearing this mask, just remember flight crews can wear it up to 15 hours and we don't get a break in between.
"But I promise you we hate wearing them just as much as you."
Last but not least, Cierra warned against attempting to join the legendary "mile high club".
She said: "I know I've joked about the 'mile high club' and while crew does it, we don't like passengers doing it.
"While you might get an adrenalin rush from trying to make it happen, I promise you, you won't only get publicly humiliated by the flight crew but there are probably police waiting for you at the gate whenever we land."
DON'T MISS
Suitcase packing tips: Don't 'layer' clothes – ingenious method [EXPERT]
How to get a hotel room upgrade: Exactly what to say at reception [INSIGHT]
'Divide and conquer': Beat airlines' outrageous extra baggage charges [HOW TO]
Cierra's TikTok video prompted some comments from fans, especially on her first point.
Many claimed it was unfair for cabin crew not to help travellers with bags.
One wrote: "I get the rest but the first one?? a small bag can be hard to lift for many people with mobility and muscle issues."
Another commented: "Ya can't help an old lady put her bags up?" [sic]
"Not all airlines check the bags for free. How dare people ask for help?" one wrote.
Another complained: "I cannot reach to put my bags away."
This is not the first time a member of the cabin crew has complained about the antics of travellers.
An Australian flight attendant called Michele detailed more to 9Honey.
Travel: Air hostess gives advice on vouchers offered by airlines
She listed the most annoying things aeroplane passengers can do as:
Walking down the aisle when the drinks troller is out
Using your phone on the tarmac
Not listening to cabin crew
Another flight attendant recently detailed a travel tip to stop other passengers from stealing your space on an aeroplane.
Source: Read Full Article