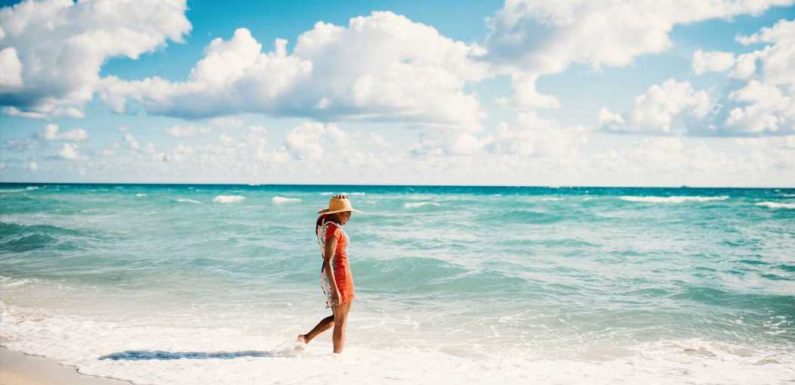 A new MMGY Travel Intelligence report recently announced that Black travelers in the U.S. spent $109.4 billion in 2019, accounting for 13.1 percent of the U.S. leisure travel market. It's a sign of the ever-growing Black travel movement, supported and spurred on by online communities, professional travel organizations, increased accessibility, and more. 
Yet while group travel for Black Americans has gained popularity in recent years, some Black explorers are also choosing to go out on their own—whether solo or with loved ones—and are leaning into more exclusive, private experiences. Many are also looking to Black travel specialists to help them create these unique moments and memories. 
"Regardless of race, people want to have a transformative travel experience," says Nik Morales, CEO and owner of The Travel Agency. For Morales, her trip planning process is always rooted in getting to know her clients from their hobbies and lifestyle to their specific needs for each trip—and adding special touches to their trips accordingly, whether that's a private wine tasting, a private helicopter tour, or exclusive access to a beachfront villa. 
Tiffany L. Layne, the owner and private experience designer behind LaVon Travel & Lifestyle, takes a similar case-by-case approach. For Black travelers, that means going beyond recommendations based on their specific needs and suggesting Afro-centric experiences or Black history tours wherever they're available. In Paris, for example, she has worked with local providers to curate historian-led, private tours that explore the city through the lens of the prominent Black writers, artists, and musicians that once lived there.
Tailoring itinerary suggestions to a client's heritage is something she does for everyone, though. Layne also recommends Barbados as a destination to her Jewish clients as the island is home to one of the oldest synagogues in the Western Hemisphere.
"[Black clients] don't travel differently than any other human just because they're Black," Layne says. "Their interests just might be aligned differently, which is true for any traveler."
Where this difference in interests is especially apparent, however, is with trips to Africa. While Black Americans head to the continent to reconnect with their roots—oftentimes with a DNA test in hand—non-Black travelers go mostly for the animal safaris, according to Gaynelle Henderson, owner and president of Henderson Travel Service. Founded in the 1950s by Henderson's parents, the company was the first Black-owned travel agency in the U.S. and has specialized in Africa travel ever since.
"[In Africa], I find that African Americans want more of the cultural heritage component than other travelers would want," says Henderson, owner and president of Henderson Travel Service. "There's just more interest."
For her clients, that means organizing visits to Ghanaian villages that specialize in weaving kente cloth and carving wooden stools reminiscent of the Golden Stool once meant for royalty in the Ashanti Kingdom. She also plans tours of former slave castles, where private guides give detailed historical explanations of how each room was used to imprison enslaved people for months before they made the journey to the Americas.
When it comes to other destinations, these travel advisors have no qualms about sending their Black clients everywhere from metropolitan cities to remote islands. But for Morales, certain locations require additional preparations.
"Theoretically, you'd like to say no, but in reality, yes, I do take into consideration the locations for my Black clients," she says. "It's not so much that I will offer something different…But on the backend, to make sure that things go seamlessly, I will make certain advisements that I wouldn't ordinarily have to make with my white clients."
Working in high-end travel, Morales says many people aren't used to seeing Black travelers at that level of luxury. To avoid any awkward moments—or worse—Morales often alerts the staff overseas when she is sending over a Black client. She does the same for women traveling alone, as well as LGBTQ+ clients to proactively prevent them from experiencing discrimination. On the other side of the equation, Morales will also give Black travelers a heads up about potential racism or something more innocuous like a lack of specialty products in certain destinations.
Layne takes a different approach. While in principle, she would advise a client ahead of time if a destination were particularly hostile towards Black people, she says she has never had to have that conversation.
"I don't want to normalize that being Black makes travel harder," Layne says. When someone asks her if a country is "Black-friendly," she flips the script, refocusing on what the person wants to experience during their travels and if that destination offers what they're looking for.
Says Layne, "We're Black. We're proud. We're passionate travelers. We can go anywhere. And if we don't let ignorance get to us here in the U.S., then why are you going to take that with you when you're trying to experience something new?"
With more than 20 years of experience under her belt, one of Morales' most important considerations is simply helping her Black clients dream big. She says that travel is relatively "new" for the Black American population, and many of her clients are the first in their families to explore so widely. With that in mind, Morales feels it's her duty to share her travel knowledge in hopes of showing her clients what's possible, especially when it comes to more exclusive experiences.
"It's about getting the information out there," says Morales. "For me, especially when it comes to my younger Black clients, it's about planting a seed. Because once that seed is planted and that imagination gets going, [these bigger trips] will always be something that they want to experience."
This is part of a series on rethinking private travel, which explores how the pandemic has changed our approach to private travel and made it more accessible to all.
Source: Read Full Article