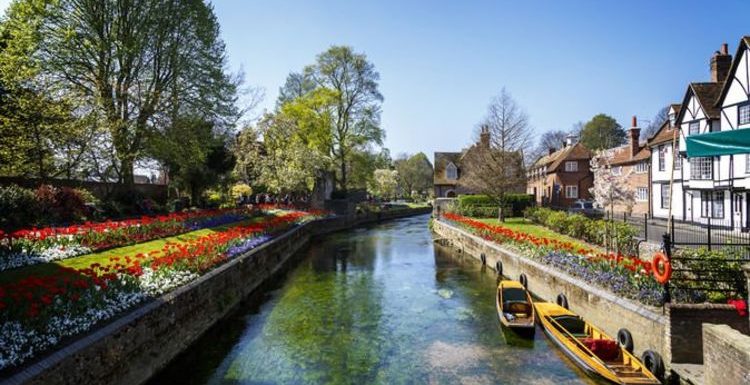 Travel: Mims Davies says staycations are 'the way to do it'
We use your sign-up to provide content in ways you've consented to and to improve our understanding of you. This may include adverts from us and 3rd parties based on our understanding. You can unsubscribe at any time. More info
Britons hoping for some hot weather on their holidays don't need to head overseas. The UK may not be renowned for its sunshine and hot weather, but some locations do get hot.
Using Met Office data, The Dozy Owl sought out the hottest locations in the UK.
Variables such as average temperature, windspeed and rainfall were analysed and the top destination for a hot staycation was revealed.
All of the top 20 locations ended up being in England, and nine were in or around London.
But for sunshine hours, other destinations were better.
READ MORE: How to keep luggage 'organised' while travelling – cabin crew tips
The overall winner was Canterbury City.
With an average of 704 sunshine hours and the highest average humidity, the Kentish city was a clear winner.
Famed for its cathedral, Canterbury has a lot to offer to holidaying Britons.
There's plenty to do in the city, with three UNESCO sites top of the list of attractions.
In second place was Ashford District, also located in Kent.
Attractions include one of Kent's best historic estates, Godinton House and Hole Park Estate.
Richmond upon Thames came third.
The London borough is home to Hampton Court Palace and the Royal Botanic Gardens.
For the most sunshine hours, holidaymakers should head to Folkestone and Hythe.
The hottest location, however, was found to be Southwark in London, with an average of 22.80◦c.
According to The Dozy Owl, Britons looking for a breeze should go to Tunbridge Wells District in Kent, which has the highest windspeeds.
Top 20 hottest locations in the UK
1- Canterbury City
2- Ashford District
3- Richmond upon Thames (London)
4- Wandsworth (London)
5- Hammersmith and Fulham (London)
6- Rother District
7- Kingston upon Thames
8- Kensington and Chelsea
8- Merton Borough
10- Elmbridge District
11- Swale District
12- Lambeth Borough
13- City of Westminster
14- Hounslow (London)
14- Woking District
16- Tower Hamlets (London)
17- Folkestone and Hythe
17- Southwark (London)
19- Tunbridge Wells District
20- Spelthorne District
Source: Read Full Article