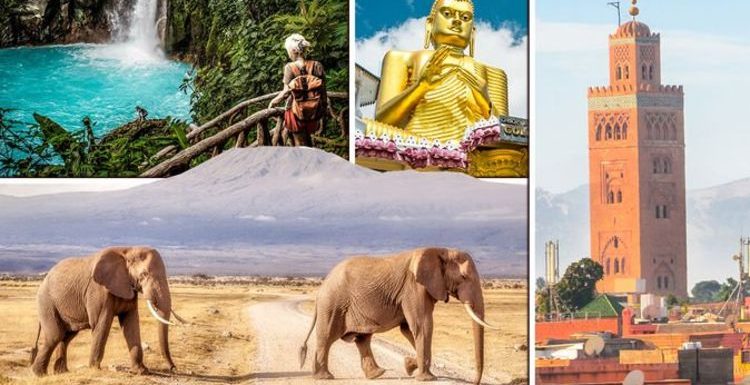 Holidays: Travel expert provides advice on booking trips in 2021
Holiday plans have been dashed for months on end now as the coronavirus pandemic rages on. Many are now more desperate than ever to get a break in the diary for after lockdown is finished. So where can you go and how should you go about booking?
Express.co.uk spoke to Brian Young, managing director at G Adventures, for his travel advice.
He explained that if you're keen on going to one destination in particular then you should go ahead and book it.
You simply need to make sure you're booking with a reputable company that offers flexibility should something go wrong and you're unable to travel.
"If you have your heart set on a destination, or a particular activity or challenge, then there's no reason not to book it as long as you have the flexibility to move your booking to a later date, should you need to," said Young.
We will use your email address only for sending you newsletters. Please see our Privacy Notice for details of your data protection rights.
In fact, this is an ideal month to get your holidays in the diary.
"January is the best time to book your 2021 holidays," said Young. "Not only is it great to have something to look forward to throughout the year, but there's also loads of fantastic offers available across all types of trips.
"We're offering up to 30 percent off a number of different adventures and just £1 upfront deposits."
However, if you're more open when it comes destinations and are nervous are locking something in, then last-minute is still possible.
"If you're looking for a quick getaway, once restrictions are lifted, then waiting to see which destinations are open is a good idea and seeing what deal you can get at the last minute," he said.
Whenever you decide to book, Young advises doing so with a travel agent to ensure you're getting out of the holiday exactly what you want.
"Booking through a trusted travel agent makes this process so much easier," the expert said.
"Agents are experts at what they do and take the headache out of researching where you can and can't travel to. They're also on hand should you need to make any changes to your booking."
So where should eager jet-setters start booking their holidays to?
Young has a range of suggestions. "For families, destinations like Costa Rica and Morocco are fantastic," he recommended.
"There are so many activities on offer and lots of fun ways for kids to learn about the local culture and landscapes, from tree reforestation to desert safaris."
"If you're on the hunt for a physical challenge, I'd definitely recommend an iconic trek such as The Inca Trail or Mt Kilimanjaro, which I took on a year ago.
"The feeling when you reach your final destination, whether that's the highest point in Africa or ancient Machu Picchu, gives you an incredible sense of achievement."
Young continued: "After a pretty gruelling 2020, some of us just want to kick back, relax and lap up some sunshine.
"Destinations such as Sri Lanka and Thailand, where you can unwind on a yacht or catamaran while cruising around the islands or coastline, enjoying fresh seafood and visits to little coastal villages are ideal for those who want a serious dose of vitamin sea."
There are plenty of short-haul options too and you can steer clear of the crowds if you want.
"If you feel nervous about travelling a long way, then there are some great closer to home options," said Young.
"We're running hiking trips in unexpected European destinations such as Ibiza, Greenland and Southern Spain.
"You can swap big hotels and crowded beaches for cliff hikes, national parks and small cave hotels – a great way to re-explore some popular destinations on your doorstep."
Source: Read Full Article