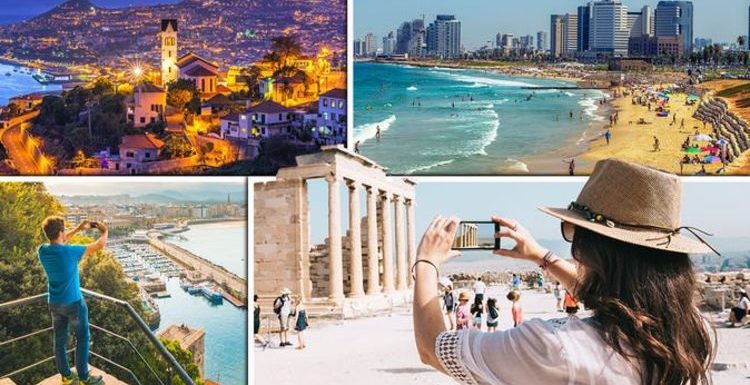 Holidays: Ryanair 'confident' for summer travel says O'Leary
When you subscribe we will use the information you provide to send you these newsletters.Sometimes they'll include recommendations for other related newsletters or services we offer.Our Privacy Notice explains more about how we use your data, and your rights.You can unsubscribe at any time.
Holidays abroad are a distant memory for many in the UK. The Covid pandemic has deprived nearly everyone of travel for pleasure for months on end. Luckily it seems there is hope in sight with the end of lockdown approaching.
May 17 is the date that has been earmarked for the return of jet-setting under the Government's roadmap.
Of course, while Britons may be able to leave UK shores, not all countries are letting tourists in.
Express.co.uk spoke exclusively to Brian Young, managing director of tour operator G Adventures, about the countries he thinks we can holiday in this summer and his travel advice.
"With Boris set to give an early update on the return of travel, all eyes are on the potential 'green list' of destinations that British travellers will be able to visit this summer and beyond," said Young.
"There have been a number of positive moves from European destinations in the past weeks to reopen their borders and welcome in travellers from May."
The expert continued: "It's likely that we will see the green list starting with a small number of close to home destinations in Europe to begin with, with longer-haul options such as Thailand, who have just announced the reopening of Phuket to vaccinated travellers from July, the USA, northern Africa and Central America joining in due course.
"Travellers are likely to be subject to entry requirements such as vaccine passports, negative PCR tests or showing that they have recently recovered from Covid, based on the rules put in play by the destination.
"What is yet to be determined is whether travellers will need to present negative PCR tests on return to the UK, which could increase the cost of holidays significantly for families.
"There will be a period of 'testing the water' for the UK Government as they monitor if travel is having an impact on case numbers, with the Government responding to any changes by adding or removing countries from the list accordingly."
Young predicted Greece, Portugal (including Madeira and the Azores), Spain and Israel would be the first to open. This is what you need to know.
Greece
"Greece's Minister has said they will begin test flights from the UK in April to a select number of airports, but these will only be for Brits who have a legal reason to travel," Young detailed.
"The ambition is to open up to holidaymakers from May 17, but in a staged approach to most commonly used airports such as Corfu, Crete, Thessaloniki and Athens."
Indeed, G Adventures have new hiking tours in Northern Greece, Crete and Corfu departing in June and beyond.
Portugal (Madeira and Azores)
Portugal has come a long way since being added to the red list due to risks posed by the Brazil variant and is now on top of case numbers making it "a good contender for the new green list."
"Portugal has said they will welcome back Brits who can show a negative PCR test this summer," Young detailed.
"Destinations such as Madeira have continued to support safe tourism from the UK throughout the pandemic, having been included on the previous travel corridor list and offering free PCR testing on arrival to travellers."
G Adventures has new hiking trips in Madeira and the Azores scheduled to begin departures this June.
Israel
Israel's "aggressive" vaccine rollout has seriously impressed in recent months so it too might make it onto the UK green list.
"Their hopes to vaccinate their population to then reopen for tourism has led to reports that Israel could be the next 'Med' destination for British travellers in the short term," explained Young.
"Hot weather, great beaches, food and adventure make Israel a great all-round destination for summer travel."
Spain
Spain travel saw a boost this week after the ban on arrivals from the UK was lifted on March 30 – although travel must still be essential.
This rule relaxation and popularity among Britons means it could feature on the green list.
"Travellers will still need to produce a negative PCR test but will not have to isolate on arrival," said Young.
"As the most visited country by Brits each year, Spain will be keen to support the safe reintroduction of travel over the summer months but it's yet to be determined if restrictions will be blanket across all of the Spanish islands, such as the Balearics and Canary Islands, or if they will have their own restrictions and measures in place."
Where else will open up?
Looking further into the future, more long haul destinations will likely be added to the green list as countries improve their vaccine rollout.
Young predicts the USA, Costa Rica and Thailand will be added.
USA
"With Aer Lingus confirming flights to the US from Manchester and the US Department of Transport giving the green light for summer flights, things are looking up for summer travel to the US," the expert said.
"With America progressing well with their vaccine roll out and a number of European countries being off the cards this summer, British travellers may well look across the pond for a late summer break if the UK Government gives the go-ahead for travel in the coming months."
Costa Rica
Young commented: "Costa Rica has been open for tourism for a number of months, and we have been operating tours in destination, with great success since December.
"Low case numbers and such a diversity of offerings makes Costa Rica a great choice for British travellers."
Thailand
Thailand announced last week Phuket island would be opened up for vaccinated travellers from July 1.
"Roll out for the rest of the country still looks to be pegged for later in the year," said Young. "Those who have received the vaccine will be able to visit the island if flying direct, not via Bangkok."
Source: Read Full Article