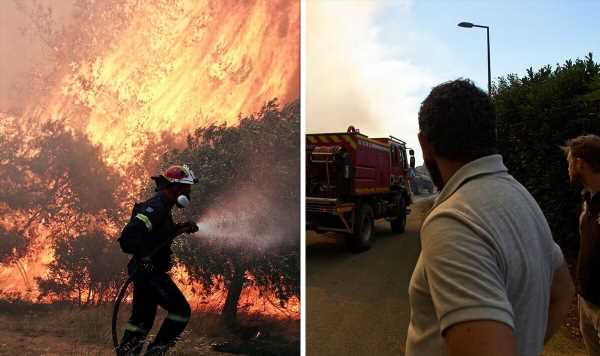 We use your sign-up to provide content in ways you've consented to and to improve our understanding of you. This may include adverts from us and 3rd parties based on our understanding. You can unsubscribe at any time. More info
Holidaymakers and residents are being evacuated from the town of Megaloni, in the Greek island of Zakynthos, due to a wildfire which is dangerously spreading across the islands and could reach houses and hotels.
The wildfire started in a forest area in Askos and has now reached the village of Megaloni.
Firefighters, including ground and air forces, have been mobilised and are currently evacuating people in the affected areas.
Civil Protection sent an evacuation order for the tourist town of Megaloni due to the large fire that had broken out in the Askos area and asked residents and holidaymakers to move to the villages of Volimes and Schinari.
Residents received a message via the 112 emergency number this morning to evacuate towards other safe areas.
Helicopters and five water-dropping aircraft have been spotted assisting from the air while firefighting forces are currently operating at the scene.
It is reported other areas of Zakynthos including Agios Nikolaos Volimos and Makris Gialos, in the Seveika area, could also be under warning.
Askos is located in the north of Zakynthos, and the forest area is home to a wildlife sanctuary, a forest reserve, a natural zoo and a park.
There are also several hotels and holiday homes located in the area.
Zakynthos is one of the most beautiful Greek islands and a very popular summer resort.
Hundreds of Britons visit the island every year which is known for its turquoise waters and white sand beaches.
Wildfires are very common in the summer months, especially in warmer countries.
A dozen European countries have suffered major wildfires this summer so far and Italy, Spain and France still face extreme fire risk.
Due to the severe heatwave, Spain suffered a major wildfire which spread through the north-western region of Galicia, in the north of Spain, last week.
The regional Government said there was a "clear intentionality" behind the fire.
Galician Minister of Rural Affairs José González said: "What this proves… is that it was a car moving and starting the fires."
Dramatic pictures of the affected areas were shared on social media and firefighters commented on the serious situation Mediterranean countries face in the summer months.
A forest firefighter reacted to a photograph saying: "Craziness! It looks like a volcano! Verin, where the two teams of Brif Laza work with their two helicopters.
"More than a dozen points, clearly intentional fire. One of the points is out of control."
Fires in Spain have reportedly spread 1.3 million tonnes of carbon emissions in just one month this summer.
This is the highest amount reported since records began 19 years ago.
Source: Read Full Article