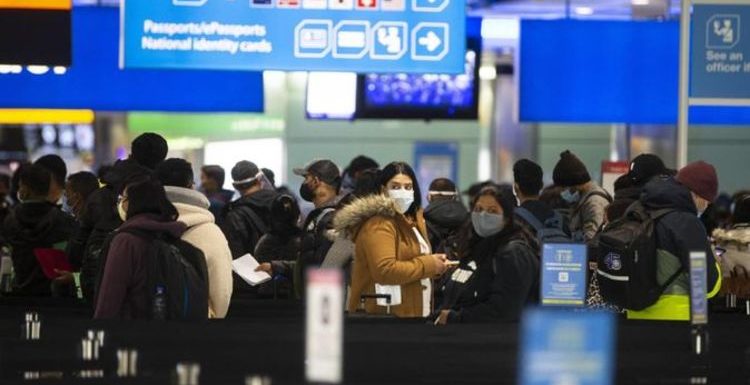 Heathrow may need red list terminal 'for some time' says expert
We use your sign-up to provide content in ways you've consented to and to improve our understanding of you. This may include adverts from us and 3rd parties based on our understanding. You can unsubscribe at any time. More info
COVID-19 cases in the UK have risen sharply in recent weeks as more and more people are 'pinged' by NHS Test and Trace. More than 500,000 people were called to isolate by the app in the seven days to July 7. This has resulted in severe staff shortages and disruption in industries where people cannot easily work from home, such as transport networks and supermarkets. Many businesses are worried the situation could worsen even further now as the Government moved to step four of its roadmap out of lockdown on July 21.
But while many are suffering in the UK, there are numerous others trying to make a dash for the border in a bid to escape the resurge in cases.
Thousands of people faced airport queues of up to three hours on Saturday as part of the busiest getaway weekend for airlines since the pandemic gripped in 2020.
Staff shortages at the border were brought on by the pingdemic, with broken machines blamed for the huge delays to travellers.
One terminal reportedly had just one border force officer checking passports for all passing travellers.
Almost 400,000 Brits were travelling this weekend as the amber list destinations were opened up a bit more.
Gatwick Airport said it expected to see between 25,000 to 75,000 passengers a day – up from a devastating low of just 15 flights per day at the height of the pandemic.
Stansted is seeing 1,330 planes take off this weekend, compared to a tiny 735 at the exact same time last year.
But Heathrow was another matter, with travellers being forced to queue hours just to check-in due to the debilitating issues.
Fiona Brett, who was flying to Germany, described the scenes at Heathrow as "total chaos".
Things weren't better for travellers coming into the UK either, as they had to queue three hours after self-service passport e-gates broke down and just one official was on hand checking papers.
Heathrow said it was an isolated incident at one terminal and assured extra border force staff had been brought in to help.
Incoming traveller Tom O'Connell said, however: "The queues were absolutely ridiculous."
DON'T MISS
Camping and caravan expert's tips to prepare your trip [INSIGHT]
Stay in a renovated yacht in west Wales [REPORT]
Heathrow chaos as pingdemic leaves 'ONE person on passport control' [EXPLAINED]
Heathrow hasn't been the only airport struggling to get by and has been badly affected by the pingdemic.
Pete Downes from Cornwall's Newquay airport fears it will struggle due to the sheer number of people off work due to sickness as experts warned it could cost the economy up to £5billion.
Mr Downes said Newquay airport "simply don't have the number of staff" to back up positions when people are off sick.
Border Force staff are eligible to be exempt from self-isolation, but only if their employers specified their name and they had received double vaccination.
But this weekend it looks as though many have not yet qualified for the exemption as the rush accelerated more than has been seen in longer than a year.
EasyJet is preparing to carry more than 135,000 passengers on more than 80 routes to Green List holiday hotspots.
TUI has almost double the number of passengers travelling compared to last weekend, with Greece and the Balearic Islands a top destination for its customers.
In the UK, the number of people who tested positive for COVID-19 on Saturday was 36,389, leading many to increasingly fear the return of lockdown restrictions after summer.
Source: Read Full Article