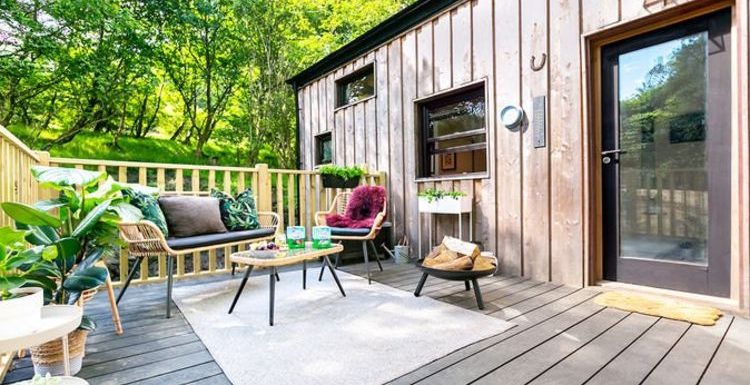 Jonnie Irwin show off incredible luxury tree house
We use your sign-up to provide content in ways you've consented to and to improve our understanding of you. This may include adverts from us and 3rd parties based on our understanding. You can unsubscribe at any time. More info
Highland Spring is giving a lucky Briton the chance to win a picturesque countryside house in Scotland to enjoy staycations for a year. But how can you get it?
More than 70 percent of Britons wished they had a second home, but many can't afford that privilege.
A luxury tiny home in Loch Voil, in Scotland, seems like the perfect holiday retreat.
Highland Spring is offering the stunning property almost for free.
The brand wants to make a holiday home more accessible than ever, but just for one lucky winner, who will be able to rent the property for the price of their sparkling can: £1.15.
Holidaymakers can win exclusive use of the Loch Voil luxury house for an entire year.
The cabin is located by 5-star hotel Monachyle Mhor, in Balquhidder, one of the most popular staycation spots in the country.
Surrounded by Loch Lomond & Trossachs National Park's beauty, the property may be a dreamy destination for many.
The annual cost of the second home is estimated to be more than £33,000 a year.
DON'T MISS
US warns citizens against travel to the UK [UPDATE]
Holiday warning: Britons warned 'not to commit' to travel [COMMENT]
Jet2, easyJet, TUI, BA & Ryanair updates amid amber list change [INSIGHT]
The cosy house includes a double bed, wood burner, kitchenette and gas cooker, full bathroom with shower and an outdoor deck with a firepit.
All the essentials such as hot water or electricity will be covered, however, Wi-Fi will not be available.
Although that can sound disappointing, some may see it as the perfect opportunity to disconnect and get to enjoy actual quality time outdoors.
The cabin is also eco-friendly and specially designed to have minimal impact on the environment.
But how can you win?
The brand has created a photo entry raffle which will last until August 13.
To enter the contest, travellers just have to follow Highland Spring on Instagram and share a picture of the new fruit flavoured Highland Spring sparkling water cans in an outdoor natural space tagging @highland_spring and #HighlandSpringHoliday.
Consumer Marketing Controller at Highland Spring Group, Mike Buckland, said: "The last year has been difficult and with the summer finally here, we understand that people want to get away from it all.
"At Highland Spring, we're lucky to be surrounded by Scotland's untouched natural landscapes and we never take it for granted. We want to give everyone the chance to experience the quiet beauty of nature."
He continued: "Our new flavoured sparkling cans, which are 100 percent recyclable, are packed with flavours inspired by wild Scotland.
"Whoever gets their hands on our tiny house for a year will be able to experience the very best of nature right on their doorstep, in this once-in-a-lifetime opportunity – one of the most sought-after luxuries in one of the country's most beautiful locations will be all theirs.
"Surrounded by ospreys and otters, loch swimming and mountain climbing, this is a magical place for someone to call their holiday home."
Source: Read Full Article