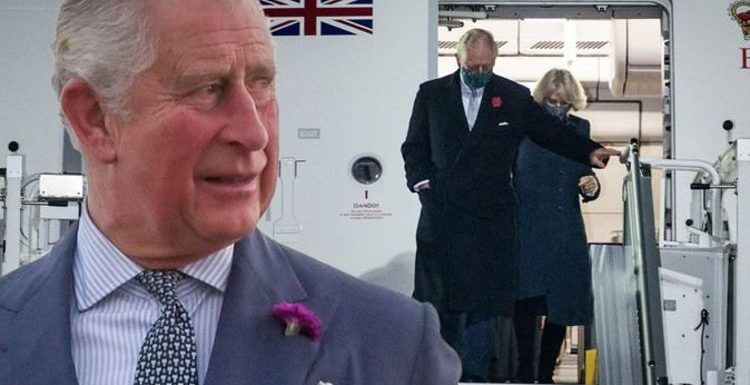 Prince Charles arrives in Barbados ahead of state visit
We use your sign-up to provide content in ways you've consented to and to improve our understanding of you. This may include adverts from us and 3rd parties based on our understanding. You can unsubscribe at any time. More info
Prince Charles is visiting Barbados this week as the Caribbean nation leaves the commonwealth and elects its first President. The visit will see the 73-year-old Prince become the first member of the Royal Family to oversee the transition to a republic, during his two-day visit to the island. The visit comes just a little more than a week after he and his wife Camilla travelled through Jordan and Egypt for a trip that was originally scheduled for March 2020.
As the Prince of Wales and a senior member of the Royal Family, Prince Charles is often required to travel in his royal role.
Charles represents the Queen and the UK on engagements and tours abroad so will understandably have to take a flight for these visits.
But according to recent data, a significant number of Charles' flights are carried out on private jets.
According to Stratos Jet Charters, Prince Charles has taken the most flights between 2015 and 2021 for business reasons than any other member of the Royal Family based on analysis of the Royal Family's financial reports.
The company's Royal Travel Index shows Charles tops the list of royals when it comes to air travel, taking 27 trips worth 124,313 air miles from 2015 to 2021.
Additionally, the breakdown shows Charles' flights total to a sum of £2,568,501.
Of these flights, 74 percent were private jet flights – despite Charles' emphatic pleas to lower emissions to tackle climate change in recent years.
Prince Charles is not the only member of the Royal Family to have jumped on several private jet flights in recent years.
According to the data, the Royal Family has flown 550,461 miles over 94 trips, with a cost of £6.6million from 2015 to 2021.
Charles' wife Camilla, Duchess of Cornwall came in third place on the list, with her air travel totalling 70,625 air miles over 14 trips.
The data shows the total cost of Camilla's flights to be £1,745,039, with a staggering 92 percent of Camilla's flights being private jet flights.
Joel Thomas, President of Stratos Jet Charters, said: "It has been fascinating to take a dive into the travel reports and find out just how many air miles one of the world's most famous families have racked up in the last six years.
DON'T MISS:
Queen 'can't stand' Kate and William's habit with royal children [INSIGHT]
Meghan Markle 'naive' to expect to have 'free rein' in monarchy [ANALYSIS]
Whatever possessed BBC to screen Princes and the Press? JOE LITTLE [COMMENT]
"However, it is hardly surprising that the royals choose to use private jets for their transport, they are extremely useful for utilizing time, and as we know, the royal visits are often very busy with a lot of appointments.
"Also, private jet hire means that the family can travel safely and securely to their destinations, with anonymity which wouldn't be possible using regular airlines."
Express.co.uk has contacted Clarence House for comment.
Source: Read Full Article