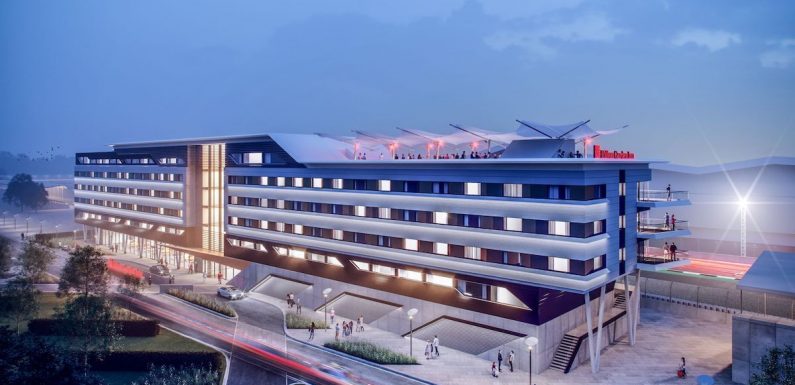 We use your sign-up to provide content in ways you've consented to and to improve our understanding of you. This may include adverts from us and 3rd parties based on our understanding. You can unsubscribe at any time. More info
Hilton is known for its wide collection of hotels and it just announced it will be unveiling a brand new hotel at Silverstone. Opening later this year, it's the perfect place to stay to visit the Silverstone Interactive Museum and will feature 360-degree views of the iconic racetrack.
Book stays now
Hilton is opening the first ever Silverstone trackside hotel and now fans can book a stay there. The Hilton Garden Inn Silverstone Hotel is coming later this year but book now to secure availability.
Silverstone is home to British Motor racing and now fans can stay near the historic venue with the launch of Hilton's latest hotel.
Coming later this summer, the new Hilton Garden Inn Silverstone Hotel will have 197 rooms and offers stunning views of Silverstone's legendary racetrack.
It's Silverstone's first and only trackside hotel and is a must-visit destination to stay for racing fans.
Complete with a stunning rooftop bar, outdoor terrace and restaurant, don't miss out on booking a stay there this year.
During race days, the hotel's 75 rooms and suites that are facing the track can also be turned into hospitality suites for guests looking to enjoy an up-close view of events like the Formula 1 British Grand Prix and British MotoGP.
A unique experience, the rooftop bar provides beautiful 360-degree views of the racetrack and Silverstone Heritage Track.
All-day dining and drinks will be available and BOX Bar & Kitchen is trackside with indoor and terrace viewing spaces.
Book a stay at the new Hilton Garden Inn Silverstone Hotel here.
In addition, the hotel is near local attractions like the Silverstone Interactive Museum which is great for a family day out.
It's also near award-winning Silverstone Distillery, Silverstone Golf Club, Bicester Village and many more so there's plenty to do when you book a stay there.
Hilton Honors members can also earn points on bookings there which they can use to redeem freebies and perks.
Join the free Hilton Honors membership here.
Source: Read Full Article