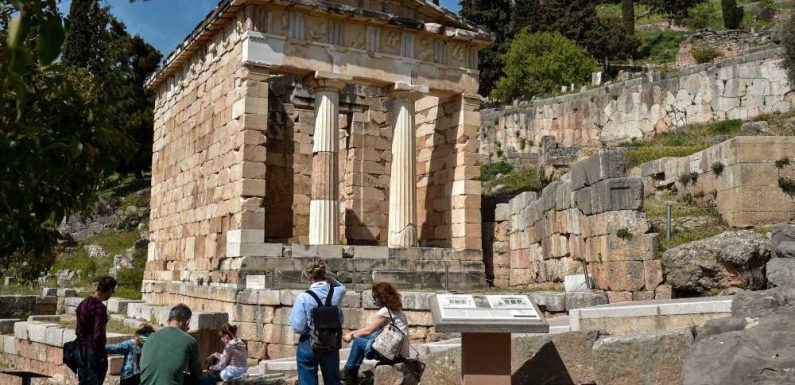 When Greece welcomes international tourists back next month, outdoor restaurants and cafes — the kind that defines a perfect Greek vacation — will be open.
The easing of restrictions comes after Greece lifted quarantine requirements for visitors from several countries on April 19, including the United States, but lockdown measures remained in place. Next month, tourists who are vaccinated, have tested negative for COVID-19, or who have coronavirus antibodies will be allowed to enter the Mediterranean country.
Outdoor restaurants and dining areas will be able to open on May 3 — just after the Orthodox Easter holiday on May 2 — Prime Minister Kyriakos Mitsotakis said in a televised address on Wednesday, according to The Associated Press. Tourism services will reopen on May 15, the same day a ban on travel between different regions of the country is lifted.
Looking ahead, Mitsotakis urges caution for the holiday to hopefully help contribute to a more relaxed summer season.
Video: A Greek 'Secluded Paradise' Awaits For Those COVID-Free and Vaccinated (Veuer)
Managing Agoraphobia in a Post Covid World

Veuer


Pfizer Uncovered Counterfeit COVID-10 Vaccines in Mexico and Poland

Veuer


Woman Finds Skeleton on Beach With Many Comparing It to the Loch Ness Monster!

Veuer


New York is Waking From a Nap! Public Transit Use at Highest Rate in Over a Year

Veuer


Make Sure Your Car Doesn't Get Stolen With This Simple Tips

Veuer


US Honey Still Contains Some Radioactive Fallout Decades After Nuclear Tests

Veuer


Here's Why a 'COVID-19 Vaccine Passport' Would Be Great and Also Why It Wouldn't

Veuer


Will Hygiene Theatre Be Coming to a Close?

Veuer


The Reason Why 1 in 4 Americans Are Considering Quitting Their Jobs

Veuer


Trump Elevates Son to Unofficial New Role Ahead of Potential Comeback

Veuer


Snow-Way! Swiss Snowman's Head Explodes As Part Of Traditional Festival!

Veuer


Consumer Products Companies Still Struggle to Catch Up to Skyrocketing Demand

Veuer


To Share or Not to Share? That is the Question Regarding Your Covid-19 Vaccination Status

Veuer


U.S. To Designate 'Do Not Travel' Advisory to 80% Of the World

Veuer


Travel and Coronavirus Testing at Airports: What you Need to Know

Veuer


CCTV Footage Captures Rail Worker Saving Child From Oncoming Train

Veuer


Managing Agoraphobia in a Post Covid World
Ease yourself out of your agoraphobia and into a post-covid world. Veuer's Chloe Hurst has the story!


Veuer



Pfizer Uncovered Counterfeit COVID-10 Vaccines in Mexico and Poland
Pfizer has uncovered counterfeit COVID-19 vaccines in Mexico and Poland. Veuer's Maria Mercedes Galuppo has more.


Veuer



Woman Finds Skeleton on Beach With Many Comparing It to the Loch Ness Monster!
Woah! Could this be evidence of a dinosaur or even the loch ness monster? Well for a couple who recently moved to Scotland, the discovery certainly sparked interest! Buzz60's Mercer Morrison has the story.


Veuer

"Our goal is to have a safe Easter and a free summer. But one cannot undermine the other," Mitsotakis said. "That's why we should not travel at Easter. Athens and other cities still have many COVID cases. Mass movement carries the risk of spreading the virus everywhere."
Load Error
Beyond just Greece, the European Union has floated the idea of a "digital green" passport, which would allow people within the EU to travel freely if they, say, were vaccinated or had proof of a negative test. This week, France became the first country in the EU to start testing a digital health certificate for travel purposes.
Tourism is a big part of the economy in Greece and, like much of the world, took a hard hit in 2020. Income from tourism last year dropped by more than 75% compared to 2019, the AP reported.
"Most of our tourism comes within the EU so it is very, very important to ensure that for travelers within the EU that they will be able to travel as easily as possible and without any additional restrictions," Mitsotakis told CNN last month. "So we essentially intend to replicate this arrangement with other countries that are not members of the EU and I expect this… to be the standard tool that we will use in order to facilitate travel."
Several cruise lines have planned Greek sailings this summer, taking advantage of the easing restrictions (and perfect weather), including Norwegian Cruise Line, Celebrity Cruises, and Royal Caribbean.
Alison Fox is a contributing writer for Travel + Leisure. When she's not in New York City, she likes to spend her time at the beach or exploring new destinations and hopes to visit every country in the world. Follow her adventures on Instagram.
Source: Read Full Article